Balloons are the ultimate party enhancer that can add more excitement and charm to any gathering. Party decoration with balloons has been popular for decades as they are versatile, colorful, and easy to work with, making them a favorite choice for event planners and hosts alike.
Unique Creative Balloon Decorations
Here, you'll discover the most popular balloon party decorations and realize the importance of creativity in the process of making your get-together memorable. So, prepare yourself to be inspired by some of the most creative balloon decoration ideas.
Balloon Photo Backdrop
Are you looking for a unique way to decorate your party with balloons? If yes, then a balloon photo backdrop might be just what you need! It is a great way to create a photo-worthy space for your visitors to capture their memories.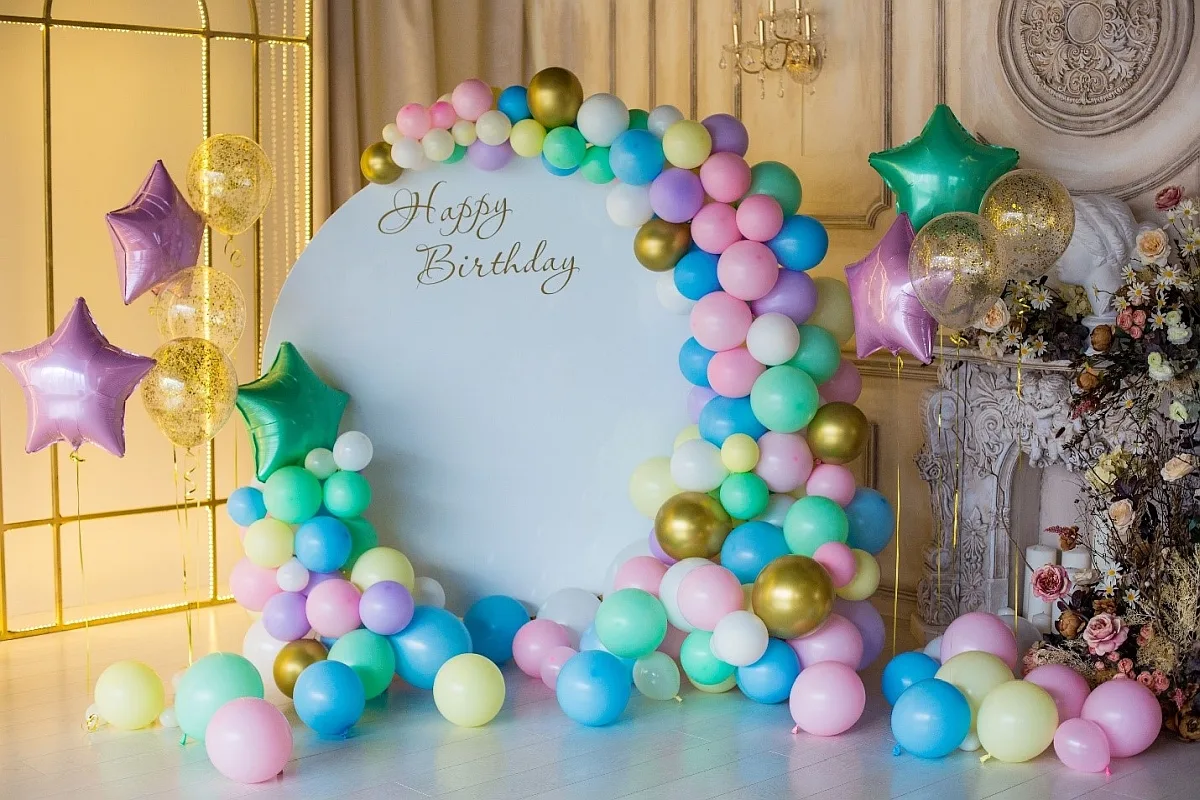 Creating a balloon photo backdrop is relatively simple and can be done in a few easy steps. Firstly, choose a location for your backdrop that is accessible to all guests. Next, pump up the balloons, secure them to the string, and hang it from a backdrop stand or fix it to a wall using tape or glue dots. Fluff and adjust the balloons to create a balanced and cohesive look.
A balloon photo backdrop is a fantastic way to take your gathering to the next level. You can create a simple backdrop by hanging balloons in a pattern or using a balloon garland. Add some metallic or confetti balloons to make your backdrop stand out for a pop of sparkle.
Balloon Arch
Get ready to elevate your celebration and raise the bar with a stunning balloon arch! Balloon arches are perfect for framing doorways, creating a grand entrance, or as a backdrop for a dessert table. It's an eccentric way to create a focal point and add a touch of whimsy to any event.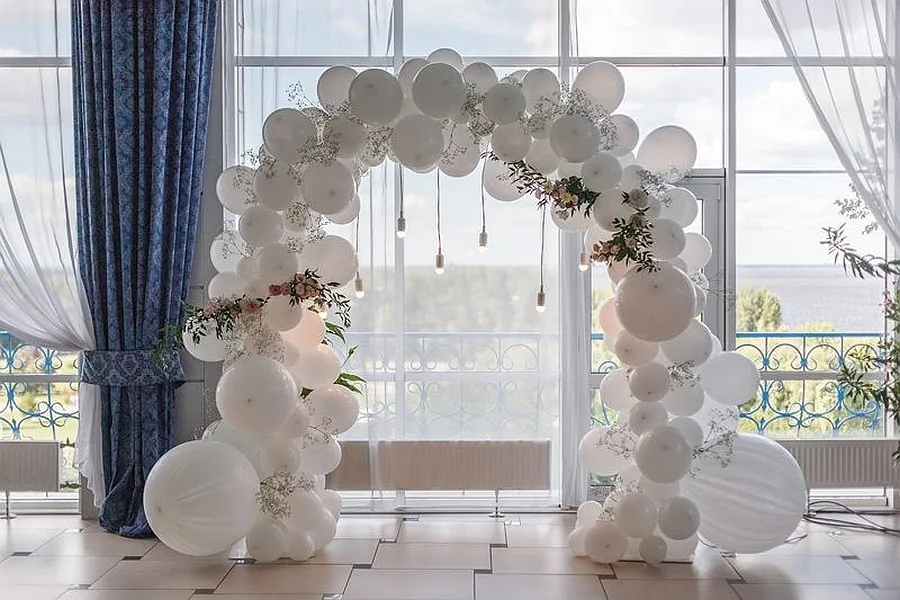 Crafting a gorgeous balloon arch requires only a few simple steps to achieve. To begin with, inflate the balloons to the desired size using a balloon pump, then loop them in pairs using string. Next, affix the balloon pairs to the balloon decorating strip, alternating colors and sizes to create a beautiful pattern. Then, use adhesive hooks to fasten the strip to the desired location, such as a wall, ceiling, or backdrop stand.
Want to create an eye-catching and playful atmosphere for your reception? Look no further than an impressive balloon arch! Get prepared to make your party pop, amaze your guests, and accomplish an unforgettable party decoration with balloons!
Balloon Bouquets
Balloon bouquets are an excellent way to add color and excitement to your social functions. No matter what type of celebration you're hosting, these jovial bouquets can help bring your shindig to life.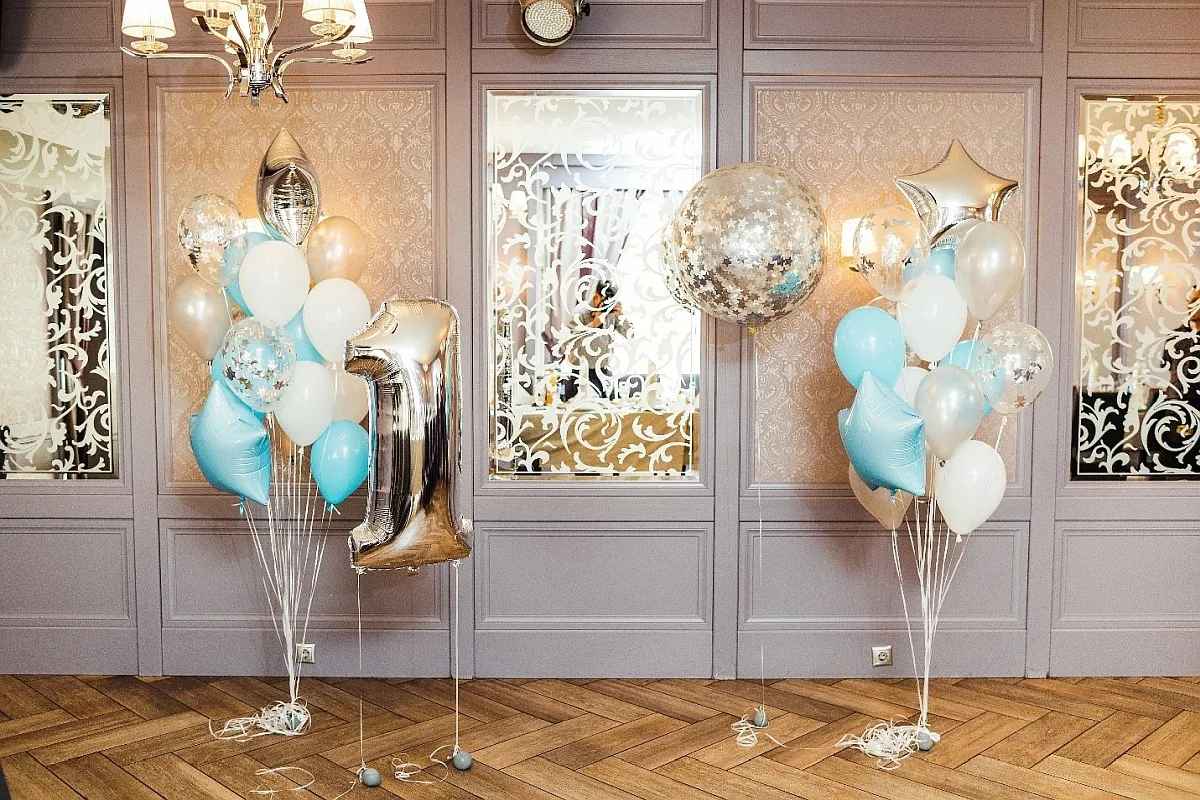 It's a snap to make balloon bouquets with just a handful of simple steps. Begin by pumping up your balloons to the desired size. Next, lace the balloons to a string and tie them to the balloon weights. Repeat this approach until you have the desired number of balloons for your bouquet.
Let your imagination run wild with your balloon colors and arrangements to match your motif. Take your event decor up a notch by putting together a striking and whimsical balloon bouquet. 
Balloon Centerpiece
Party decoration with balloons can be a lot of fun and a perfect way to add some pizzazz to your gatherings. One of the best ways to achieve this is by creating lovely balloon centerpieces. These centerpieces can help make your tables look fabulous regardless of the occasion.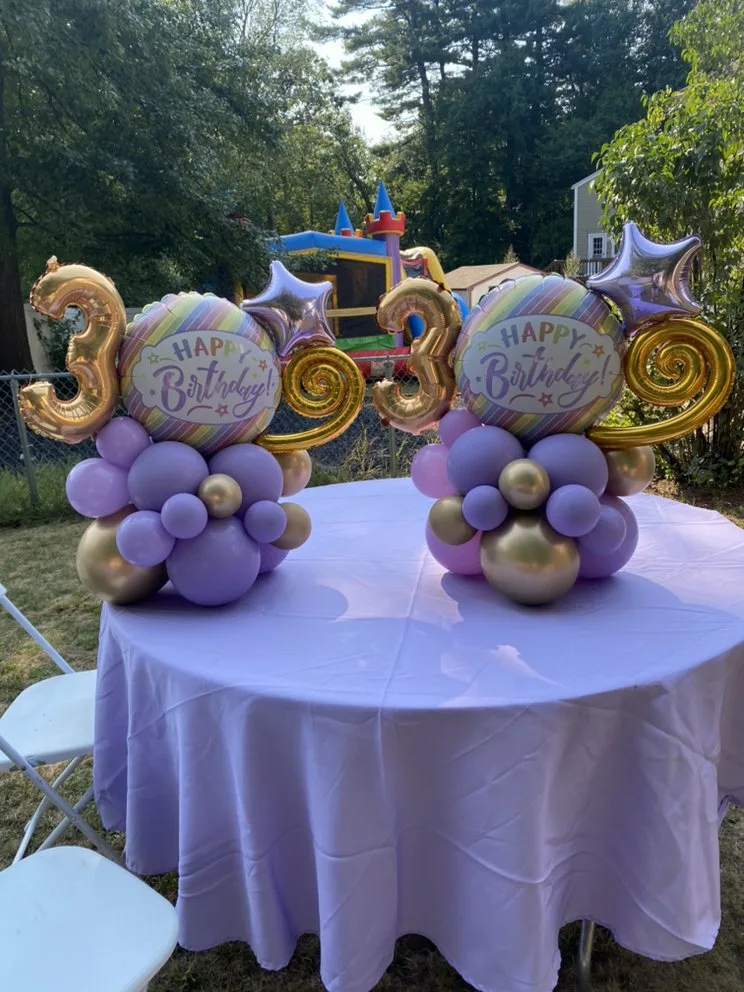 Impress your visitors with charming balloon centerpieces for your special occasion. Start by inflating your balloons, then binding them to the balloon weights with a string. Repeat the process until you have the intended number of balloons for your centerpiece. Once done, arrange the balloons on the table in a visually pleasing manner, either by grouping them or spreading them out, depending on your preference.
Bring your tables to life and embrace your unique ideas by bringing some color to your event! Get started with crafting remarkable balloon centerpieces, but stick with your motif for a great flow.
Balloon Ceiling Decorations
If you're looking for a grandiose way to take your party decor to new heights, then balloon ceiling decorations are the way to go! You can create an impressive and joyous display with just a few materials and creativity.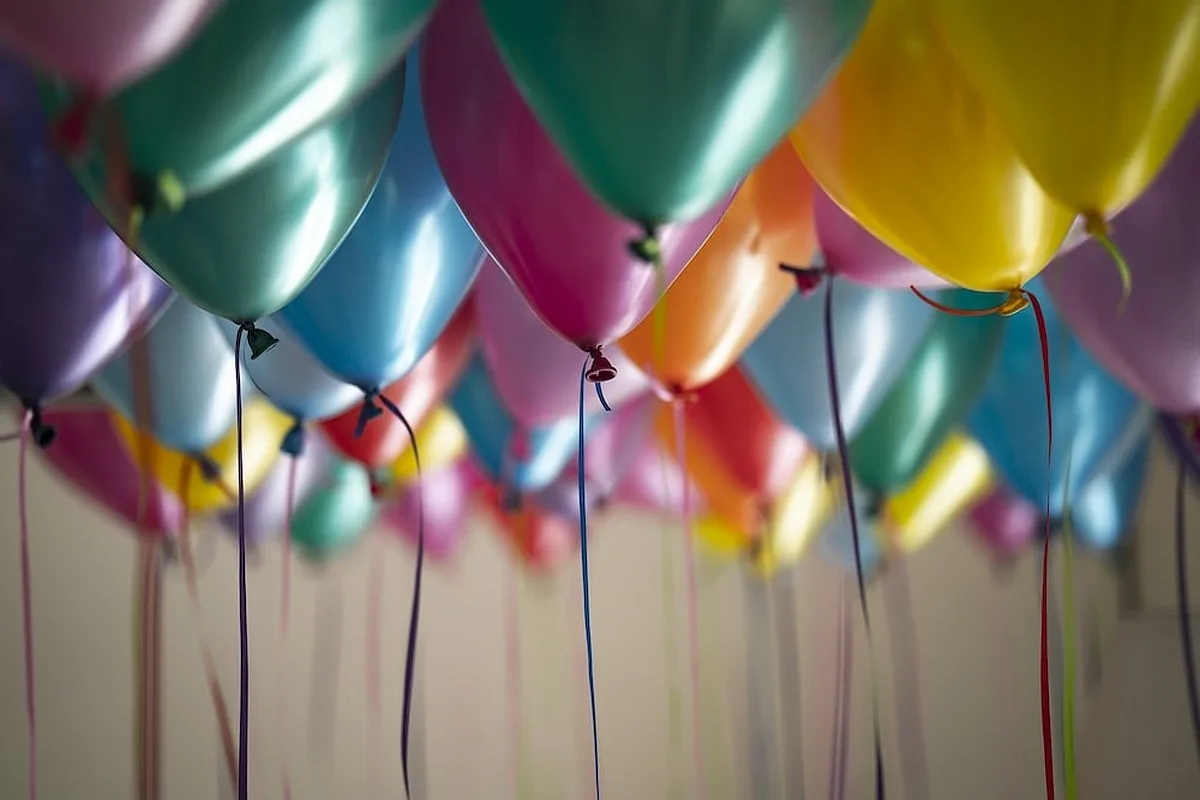 You don't have to be a crafting expert to create spectacular balloon ceiling decor. It's a simple procedure that anyone can do. First, use a balloon pump to inflate balloons to different sizes. Loop a piece of string to the knot of each balloon. Next, choose a spot on the ceiling where you want to hang your balloon decorations and fasten the other end of the string to a secure attachment point. Keep tying more balloons to the string until you achieve your desired coverage and arrangement. Another way is you can just attach each balloon to the ceiling with tape or glue dots.
Balloon ceiling decorations are a dynamic way to elevate your party decoration with balloons. So, grab your balloons, pump, and strings, and let your creativity soar!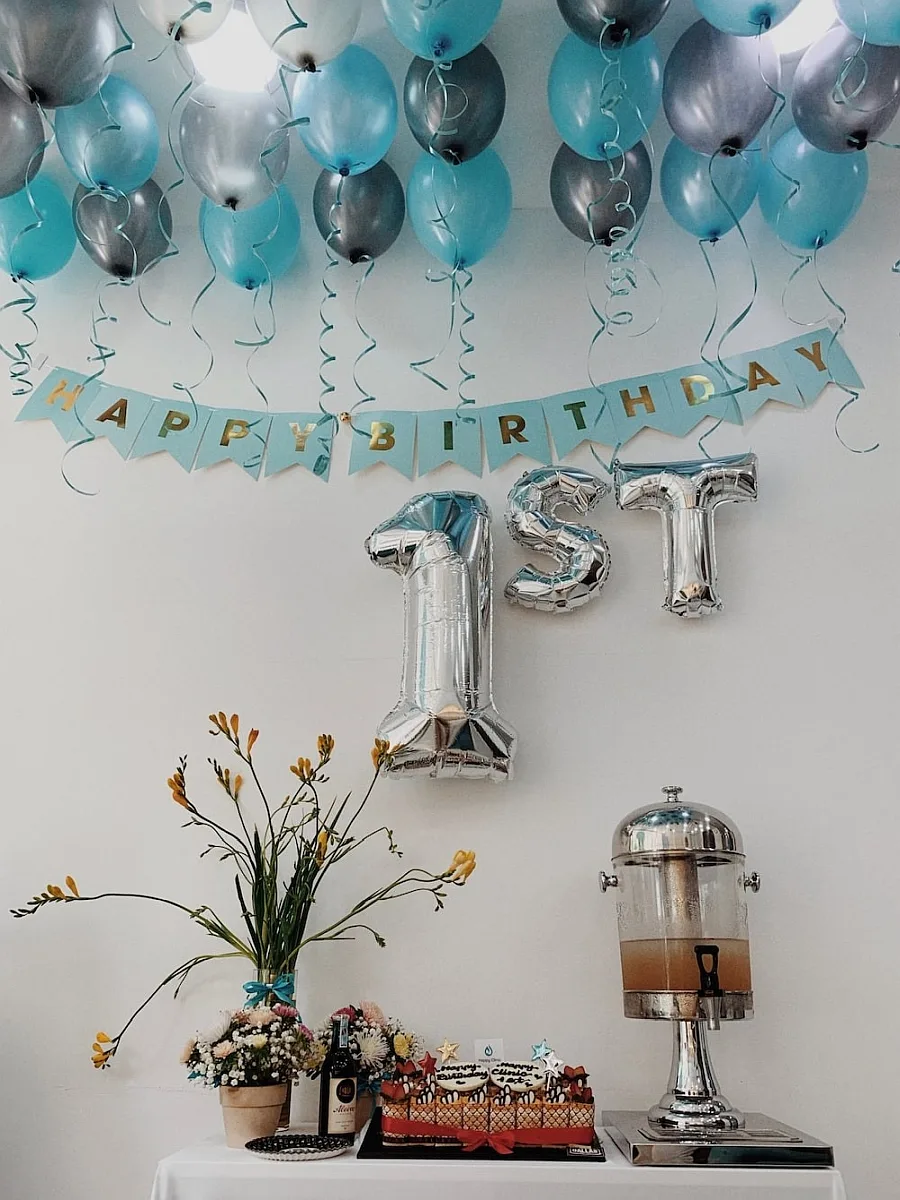 Before we wrap it up, let's talk about choosing balloon colors and arrangements. When selecting colors, it's important to consider the overall color scheme of your party. You can choose a monochromatic color scheme for a more sophisticated look or a rainbow of colors for a fun and carefree vibe. For arrangements, consider using different shapes and sizes of balloons, such as balloons with tassels or balloons with printed messages.
Conclusion
To bring it all together, customizing your party decorations with balloons is an easy way to make your gathering stand out. Whatever the event may be, there are endless possibilities for customization. Just remember to choose colors and arrangements matching your party's theme or color scheme, and have fun!