A baby's first birthday celebration in most households can equalize the charm of a festival in terms of its ambiance. Pulling off chic themes for a birthday party using amazing party supplies such as birthday balloons will make the happy birthday decor even more enthralling and extravagant.
Party Decorations for 1st Birthday
The birthday decoration is highly significant as it is not about just making the little toddler celebrating his or her first birthday feel special but also about making the guests feel the vibe of the party.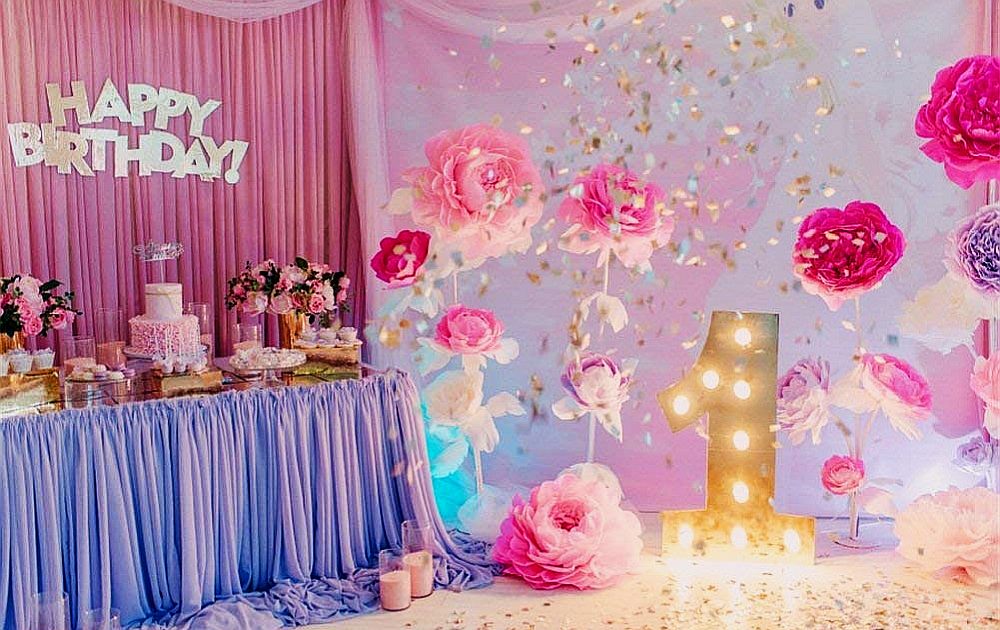 A birthday party with themed happy birthday decor will definitely be high on fun and frolic and will create many lovely and everlasting memories. Let's now look at some dazzling birthday decoration tricks and stunning themes for a toddler's first birthday party.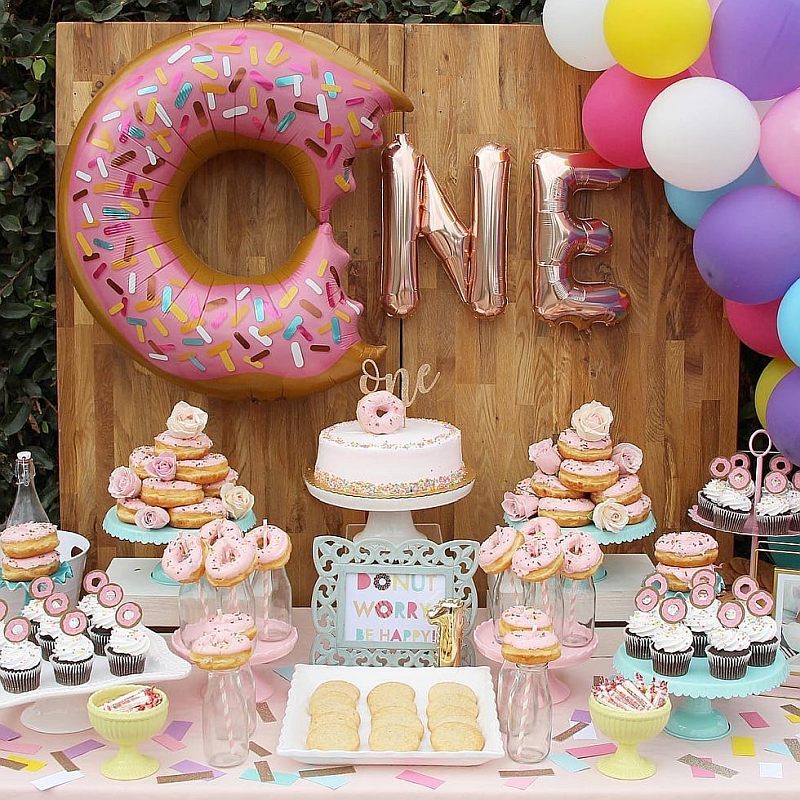 Whimsical Cartoon Based Birthday Party Themes
It is an assured fact that all toddlers and young children tend to be fans of many cartoon characters. A birthday party with a theme inspired by cartoon characters is one assured way out of many that will impress not just the toddler celebrating his or her first birthday but many other young children present among your guest list as well.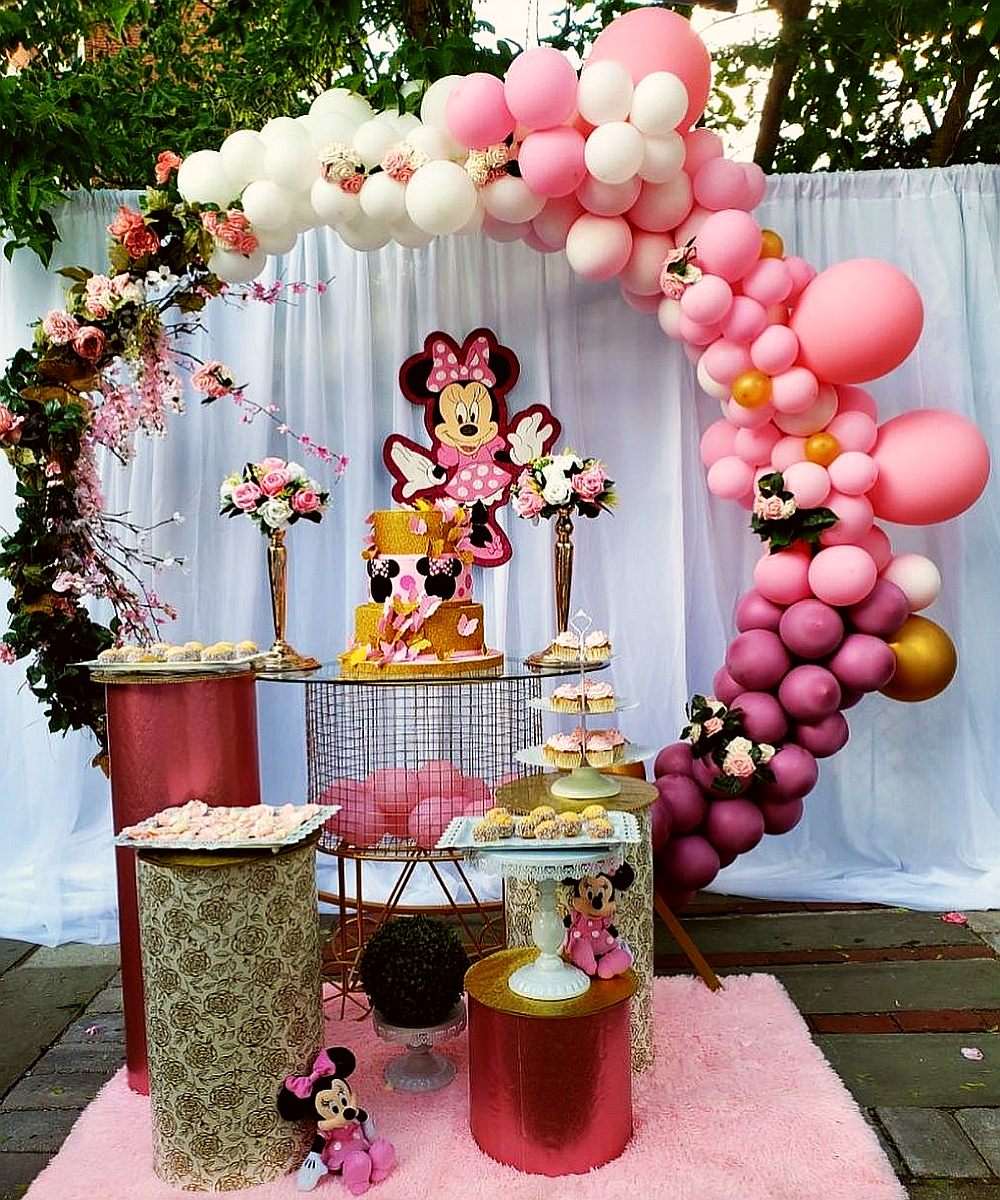 A birthday party with decorations based on characters that enjoy great fandom among kids such as Minnie Mouse, Harry Potter, Sesame Street, Paw Patrol, and Scooby Doo can be great party themes for your toddler's first birthday. Such thematic birthday decorations will surely look whimsical yet fantabulous.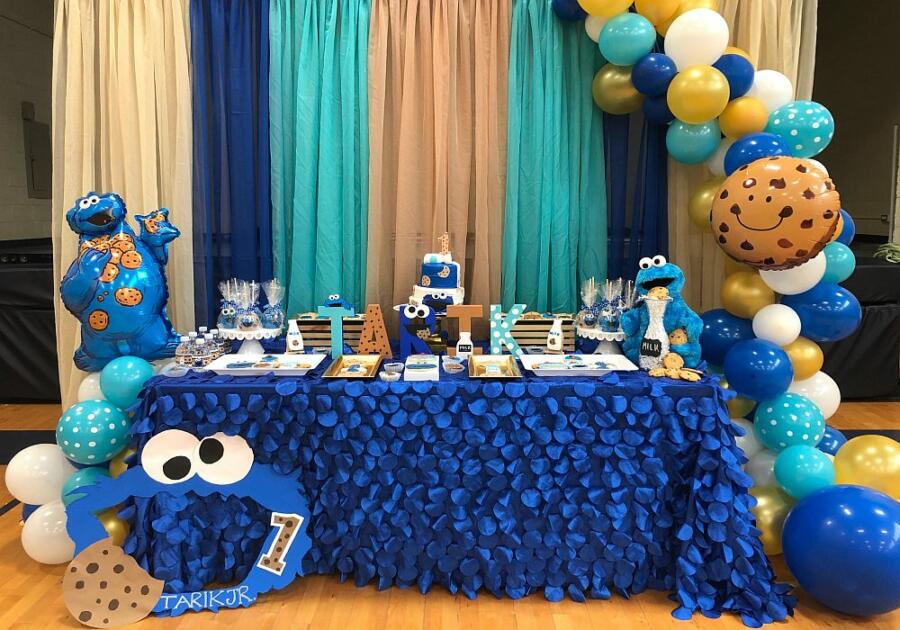 Though the current generation of kids does not like stereotypical party themes, mermaid birthday decorations and barbie birthday decorations are still popular choices for a toddler queen's first birthday bash.
Mickey Mouse Birthday Balloon Decoration Ideas
Anything that looks shiny, bright and colorful tends to catch the fascination of a baby or any young kid. Speaking of shiny, bright, and colorful, Disney birthday balloons can be a phenomenal decor element for your toddler's first birthday party.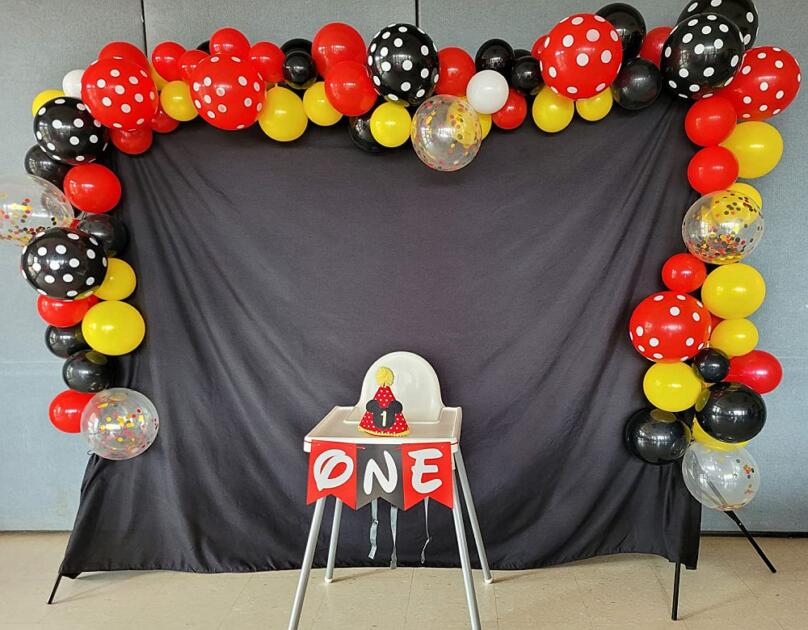 Charming birthday balloons such as helium balloons and mylar balloons can keep all your toddler guests engrossed in awe throughout the event with their splendiferous vibrancy. However, using birthday number balloons as part of your happy birthday backdrop decor can add dazzling appeal.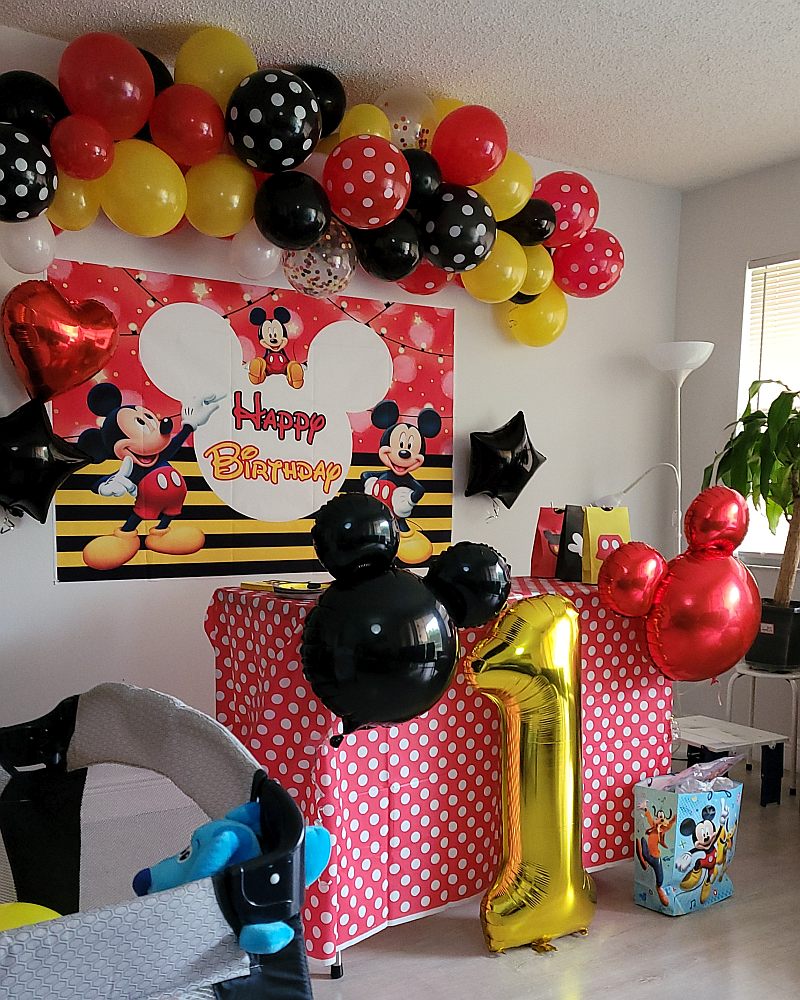 Moreover, Mickey Mouse birthday table decorations that include balloon bouquets alongside the colorful birthday cake and backdrops made with balloon garlands and balloon arches can make the party decor look alluring.
Chic and Charming Birthday Table Decorations
Thematic birthday decoration ideas that include a lavish birthday balloon arrangement using balloon garlands and balloon arches can make your happy birthday decor look amazing but what happens to be a natural cynosure at any birthday party is the cake table.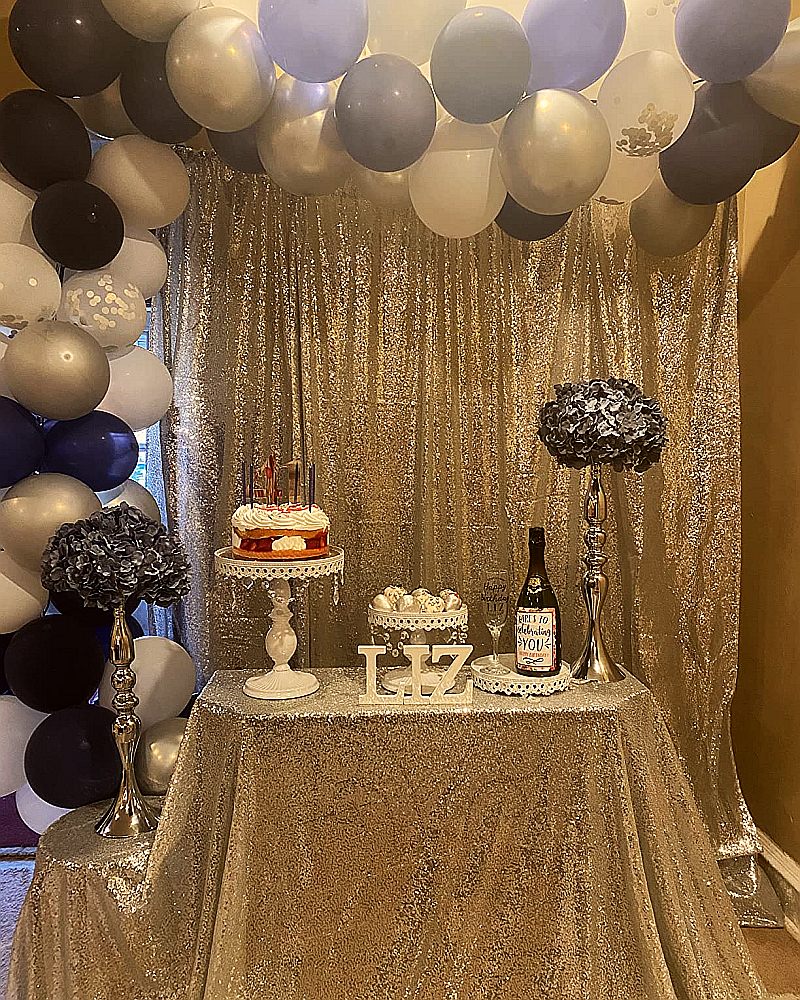 The birthday cake is a special delicacy that can garner everyone's attention with its colorful appeal. Hence, it is important to elevate your birthday cake table decorations up a notch for a striking display. You can either use decorative lights such as LED string lights or fairy lights to adorn your cake table or embellish the cake with cake toppers for a grand and marvelous decor.
Trendy Party Favors for a Warm and Lovely Send Off Note
While all the above mentioned tricks and decor ideas can elevate the overall birthday party decorations, using party favors will bring the birthday party to a befitting end on a warm and lovely note. The first birthday bash tends to have many toddlers and young children as part of the guest list and so "give away gifts" can be a wonderful idea.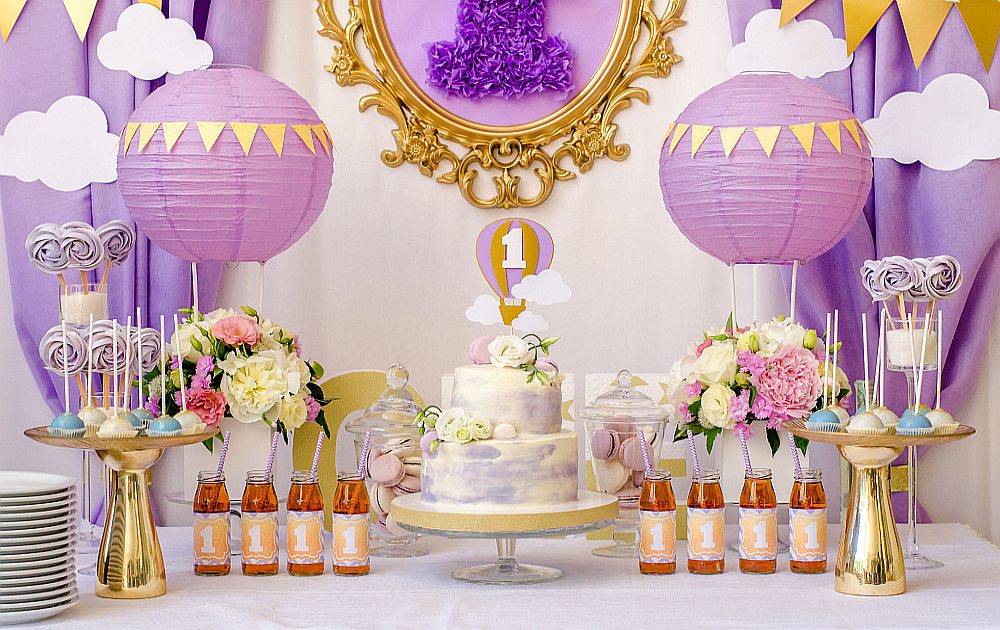 Using cartoon inspired birthday party favors such as harry potter supplies, Barbie accessories, mermaid jewelry, paw patrol gadgets and gear and many other similar favor gifts can bring smiles to the faces of your young guests when they exit from the party venue.
Miscellaneous Items for the Party
Having a first birthday party seems like such an exciting and magical milestone in life. You'll want to spend hours doing all the preparations, making sure everything is just perfect for your little one. Provide finishing touches to your 1st b-day decorations with party favor stickers and colorful balloons.
Happy 1st Birthday Banner
If you want something more traditional for your child's 1st birthday party, consider purchasing banners.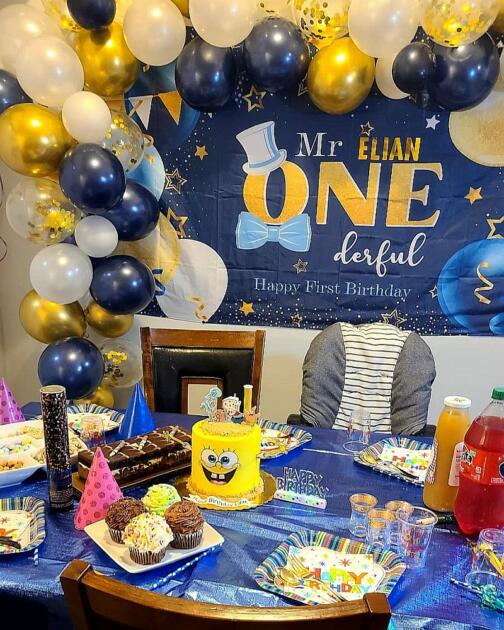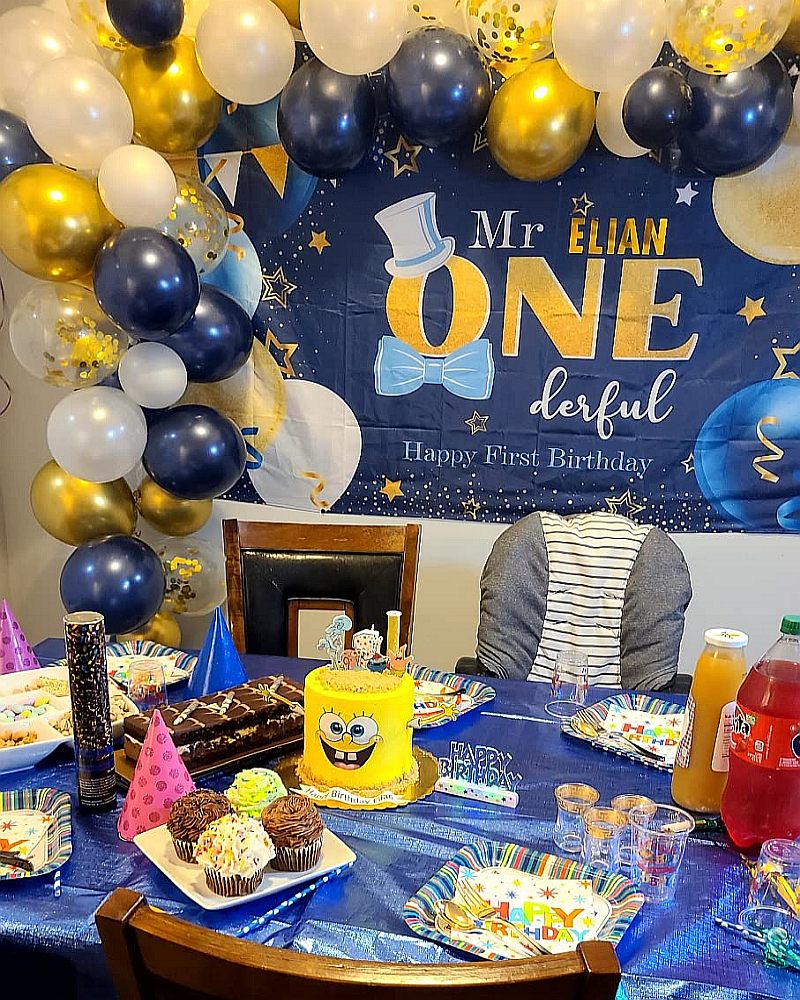 There are many different types of banners available; some have pictures printed on them while others just have text written on them with bright colors like orange or yellow so they stand out against any background they're placed against around your house or venue where the party will take place.
Balloons for 1st Birthday Decorations
Balloons are one of the best ways to add color and brightness to any party. There are so many different styles of 1st birthday balloons available today, from classic Mylar balloons to latex balloons with fun messages printed on them.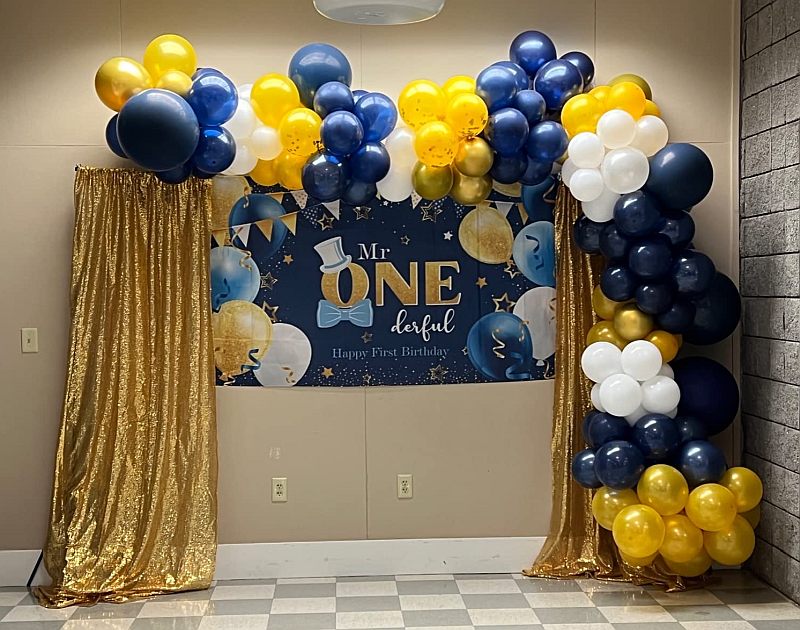 You can even find themed balloons that match your child's favorite toys or television show!
1st Birthday Gifts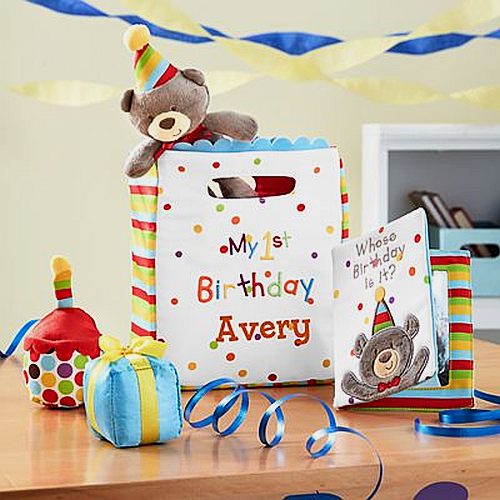 Looking for the perfect gift to celebrate your little one's first birthday? Let's see everything you need to make this special day even more special. From a beautiful bouquet of flowers to party favors that will be a hit with all the kids, we have great ideas for every type of celebration. So whether you are planning an intimate gathering or a larger event, let us help you put together the perfect gift basket or bouquet so that your child can celebrate their big day in style!
Happy 1st Birthday Party Favors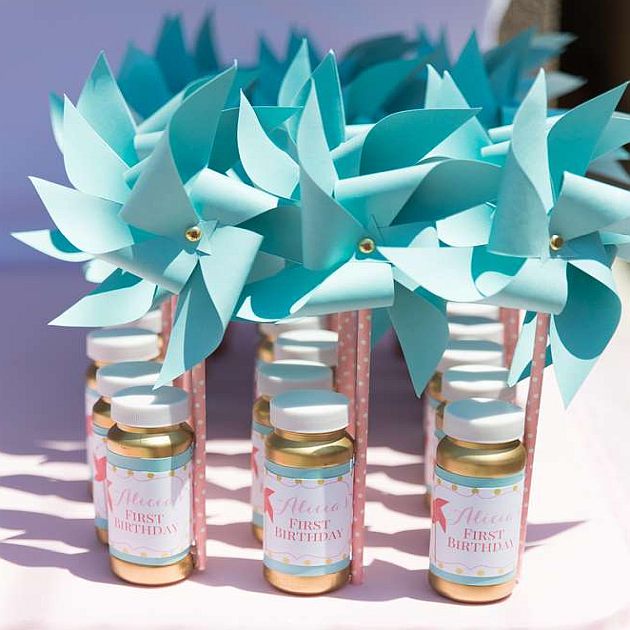 Give your little one a special treat this 1st birthday with our exclusive favors online. Choose from a wide range of personalized favors, 1st birthday decorations, and party items to make the occasion even more memorable.
You can make party favors for babies' first birthday parties using simple materials like balloons, streamers, and ribbon. These inexpensive decorations are easy to find at any store, so you won't need to spend much money.
#decoration #style Handmade digital baby 1st birthday creative personality candle baking cake decoration pic.twitter.com/Glc33ZIOGU

— Home&Party Decor (@HomePartyDecor) February 11, 2020
1st Birthday Flowers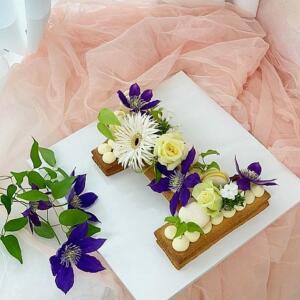 Bouquets are an ideal choice for any occasion and are sure to impress your little one. They come in a variety of colors and styles, so you can find one that matches your child's personality. If you're looking for something more personalized, our custom designs are just what you need. You can choose from a wide range of themes and colors to create the perfect gift for your child's birthday or another special event.
1st Birthday Highchair Decorations
The highchair where the birthday boy/girl gets their share of their birthday cake acts as one of the biggest focal points of the first birthday party. Thus, adorning it with pretty decorations should be on top of your list. Look for inspirational ideas and find party decor supplies that match your theme to stylishly dress it up for the special occasion!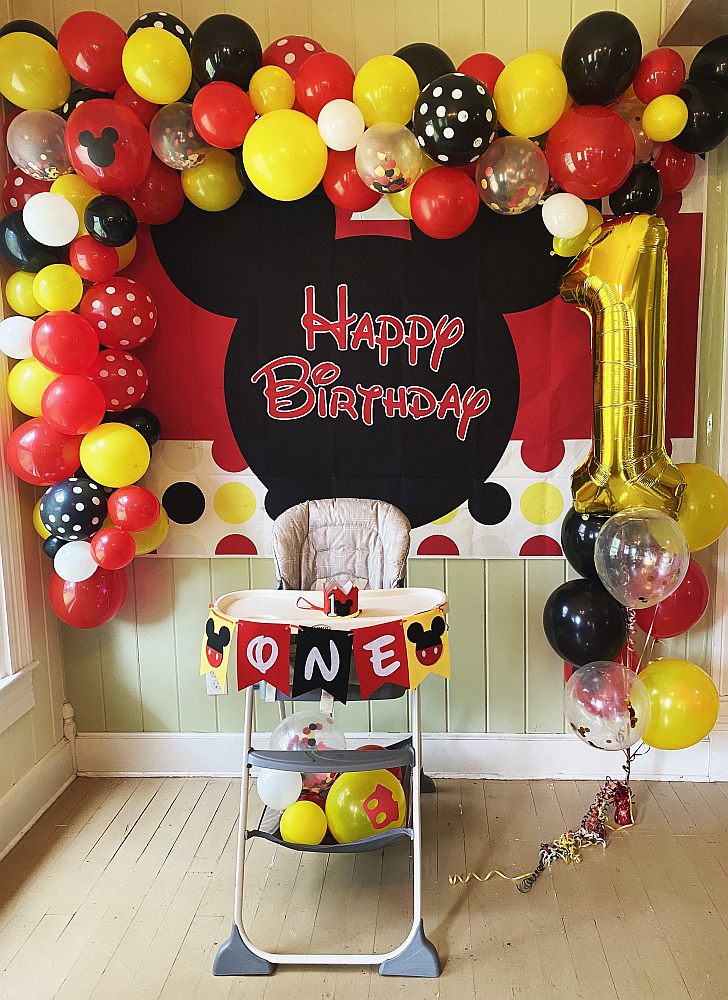 1st Birthday Party Food
There are so many delicious options when it comes to party food! Make sure there's enough variety so everyone gets what they want at your child's first birthday party.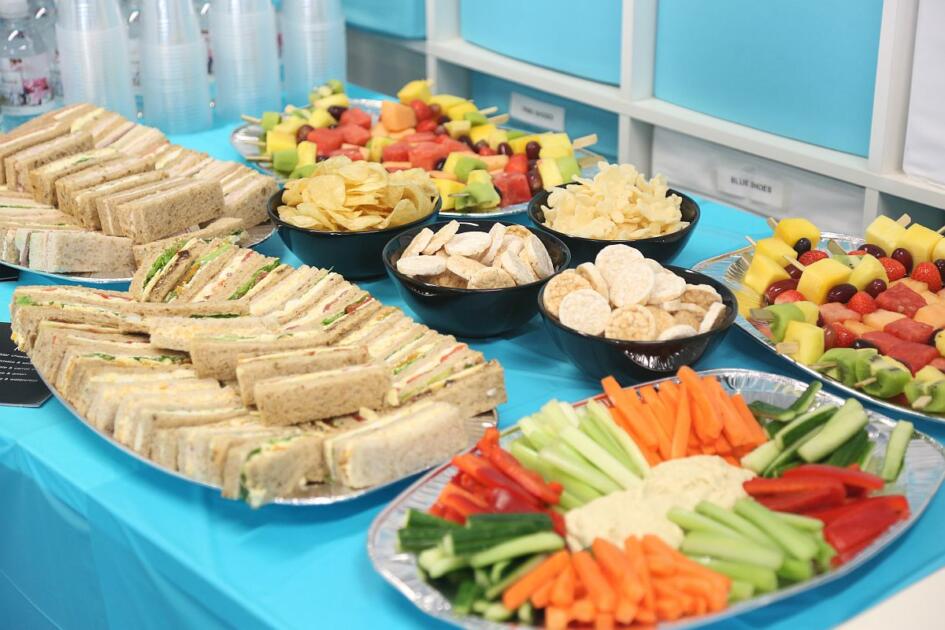 Here are some ideas for foods that will make the perfect combo: pasta salad; fruit salad with yogurt dip; pizza slices; hot dogs; hamburgers; veggie skewers; cheese cubes with crackers; chips and salsa; potato chips with dip (ranch); cookies (chocolate chip).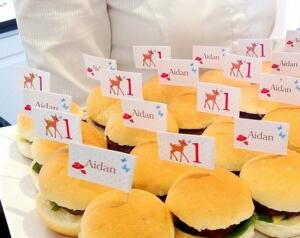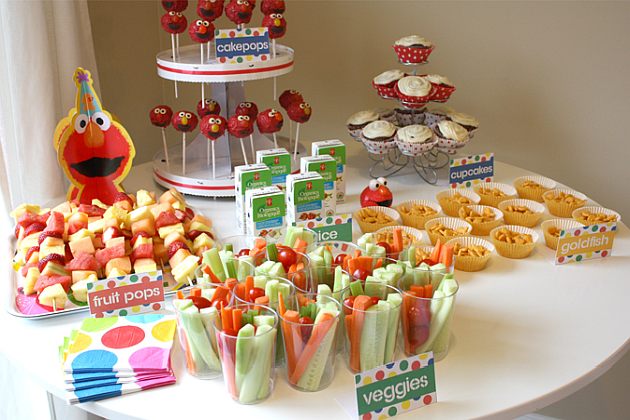 1st Birthday Cakes
When you're planning a party for your little one's first birthday, you want it to be memorable and special. An amazing cake can help make sure that happens! You can find all kinds of ideas for cakes here, including simple cakes with easy-to-make decorations as well as more elaborate cakes with lots of detail. Choose the one that fits your child's personality and tastes best!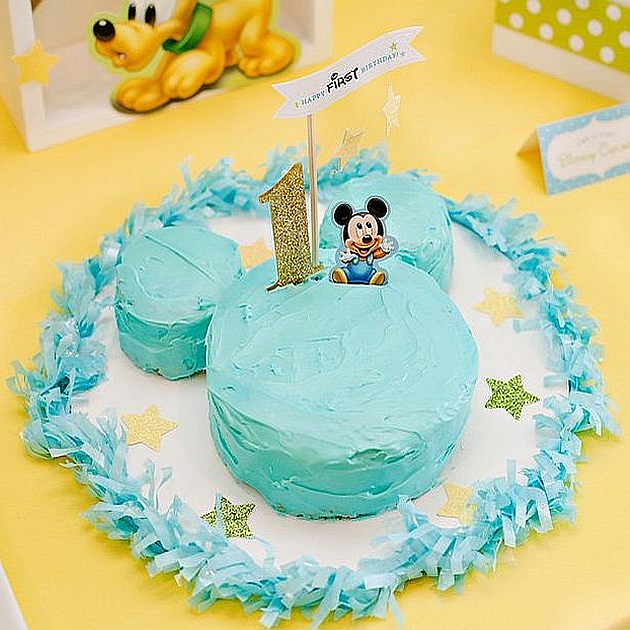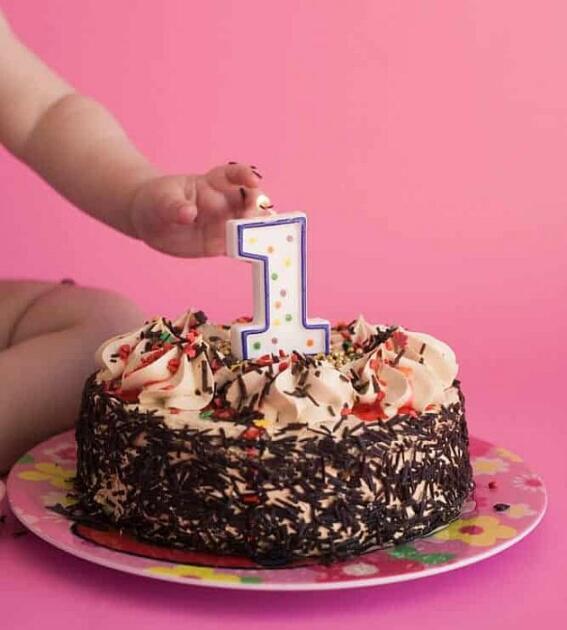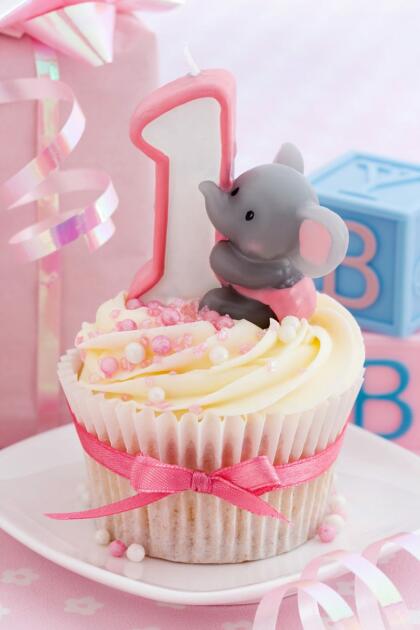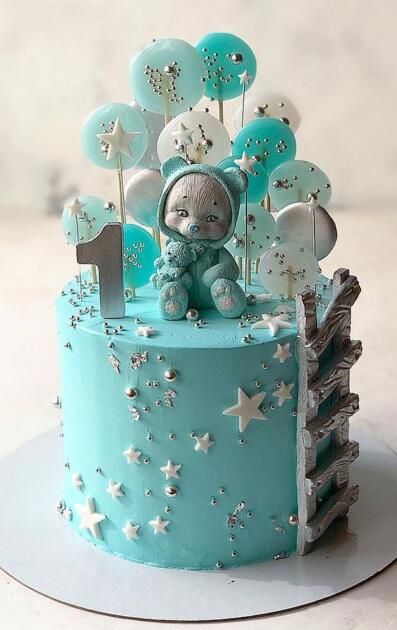 First Birthday Party Music
Next, plan out the music for your party. For example, if your child loves dancing and singing along to music, then hire a DJ who will play their favorite songs throughout the night (or just tune everyone's phones into Pandora). If they like listening to books instead, then have someone read aloud from one of their favorite stories throughout the evening!
Surprise The Birthday Person with Customized Costumes
Since a child's 1st birthday can be a momentous occasion, be sure to plan accordingly. Gear up with great ideas that are suitable and special for a boy or girl, that'll impress even the adults.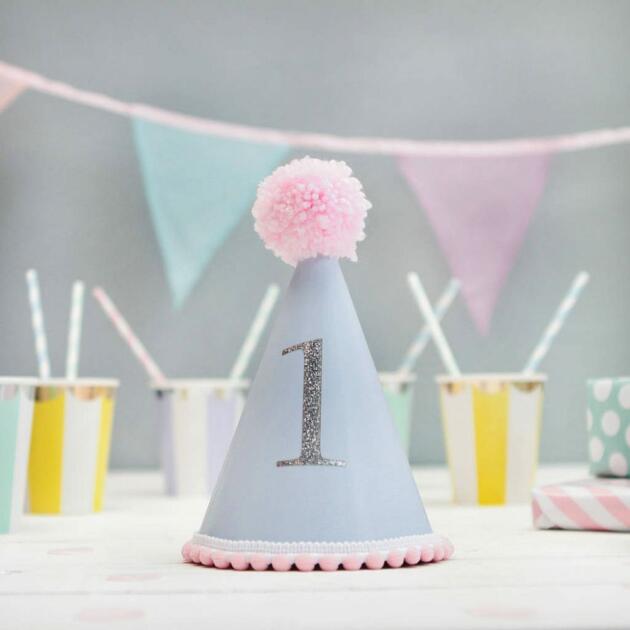 Happy 1st Birthday Party Ideas for a Girl
Your little girl is turning one and you need to maximize the celebration. Since a lot of money, time and effort was put into bringing them into this world, so why shouldn't you celebrate? Now, if you are thinking about what kind of party decorations to go for, here are a few ideas to help you!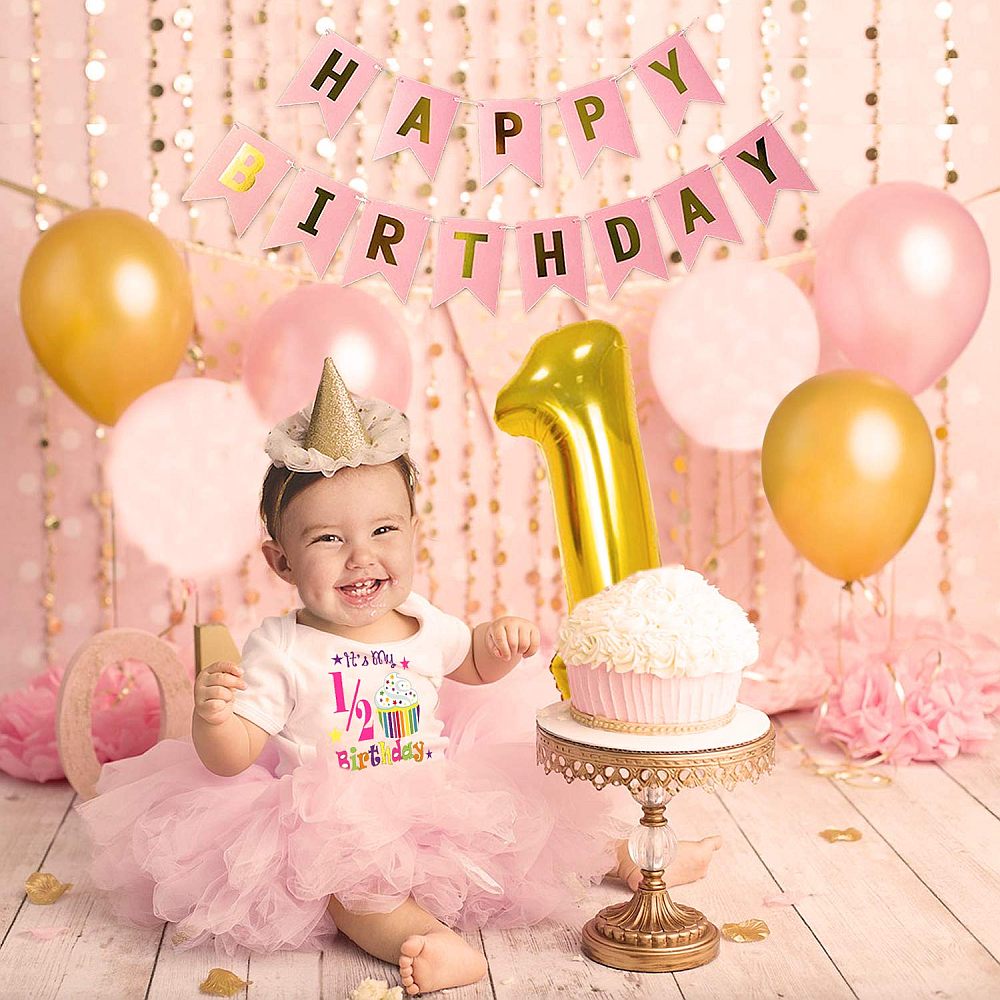 My goal in life is to make her be the happiest baby.
Happy 1st Birthday Party Ideas for a Boy
Congratulations! Your boy has turned one. It's time for a party to celebrate the special occasion! It's also time for you to do some research on 1st Birthday decorations and party ideas. But if there are so many options, how can you choose? Relax, I'm here to help you figure out what to do.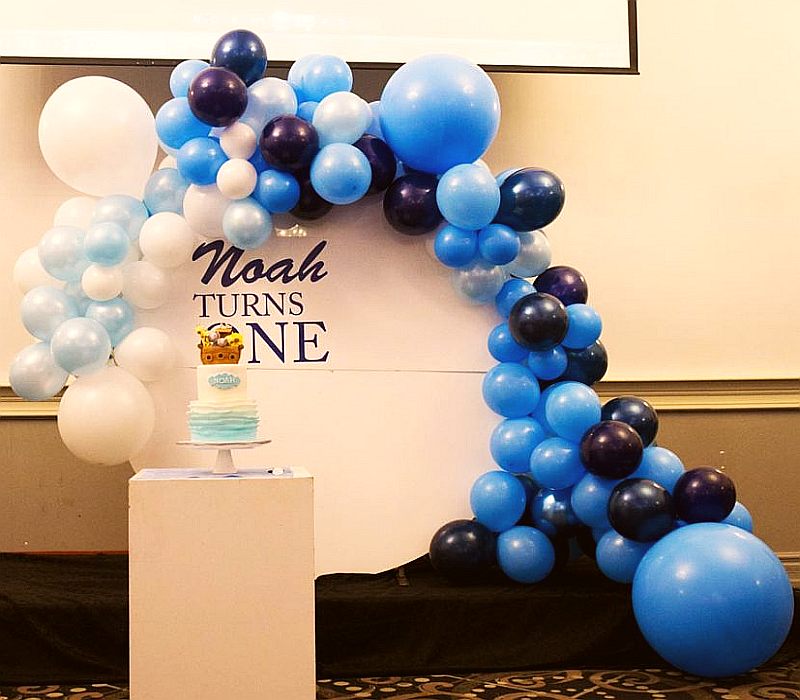 Best Happy 1st Birthday Backdrops
When planning a birthday party for a baby, it is always entertaining and enjoyable to discover unique birthday backdrops. These four ideas will take the stress out of finding creative ways to entertain the guests of a baby's first birthday, while they're visiting and making memories with the family.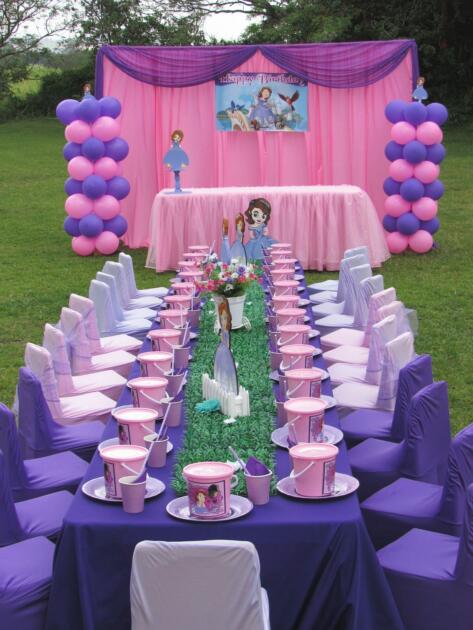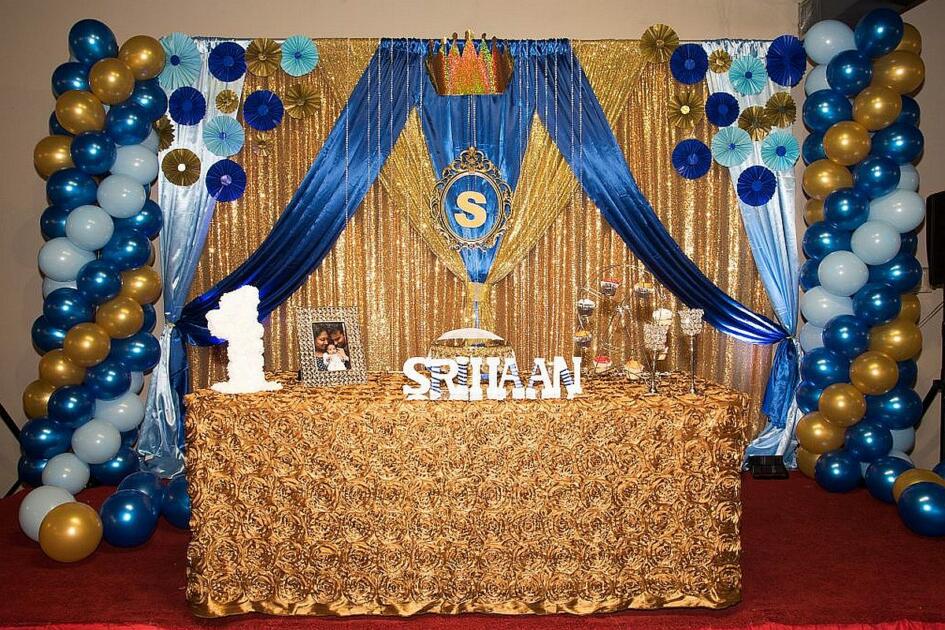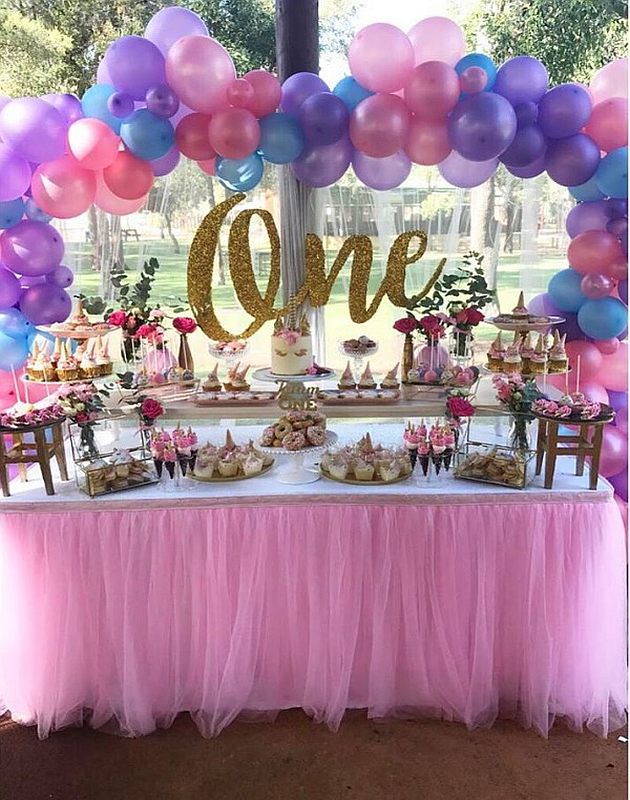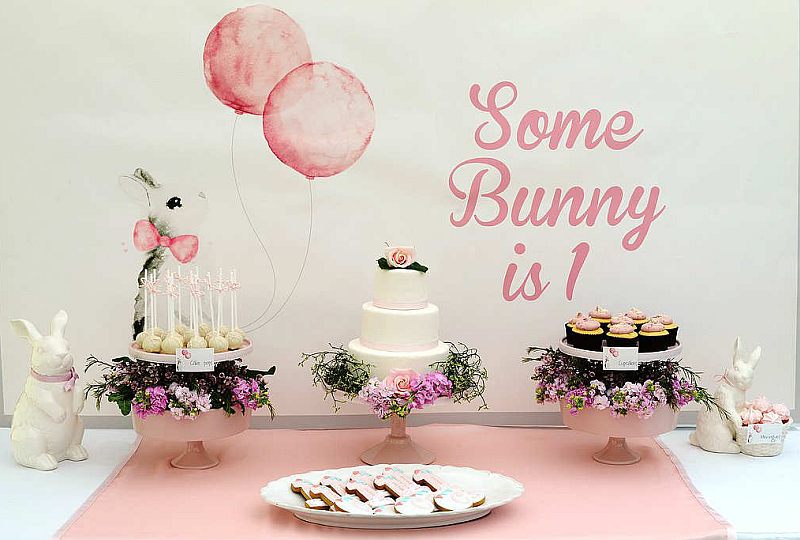 1st Birthday Table Decorations
When it comes to decorating for your toddler's first birthday party, most of us parents can feel a little overwhelmed. We definitely don't want to spend a fortune on table decorations that the baby will just mess up within minutes.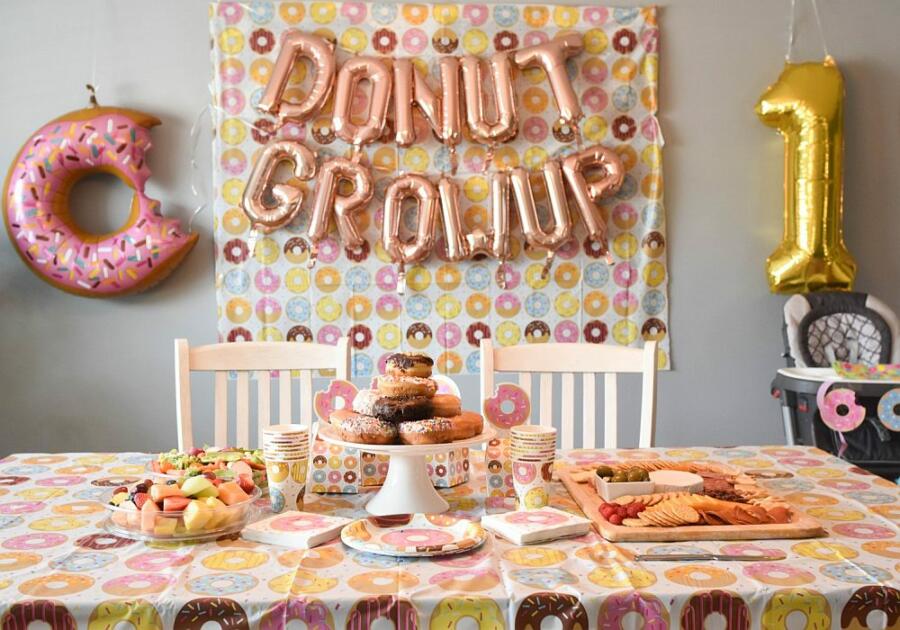 We want something clean, easy and creative for our little toddlers' first birthday party so where do you start?
1st Birthday Invitations
When it's time to send out invitations for this big day don't forget to include one thing: pictures! Kids especially love seeing themselves in print.
DIY Decorations for 1st Birthday Party
You don't need to spend a lot of money on your first birthday decorations. You can use items from around your house to create a colorful and festive table design. For example, if you have some old sheets or blankets lying around, you can cut them into strips and tie them together to create a banner that says "Happy 1st Birthday!" This will look great hanging over the table at your child's party!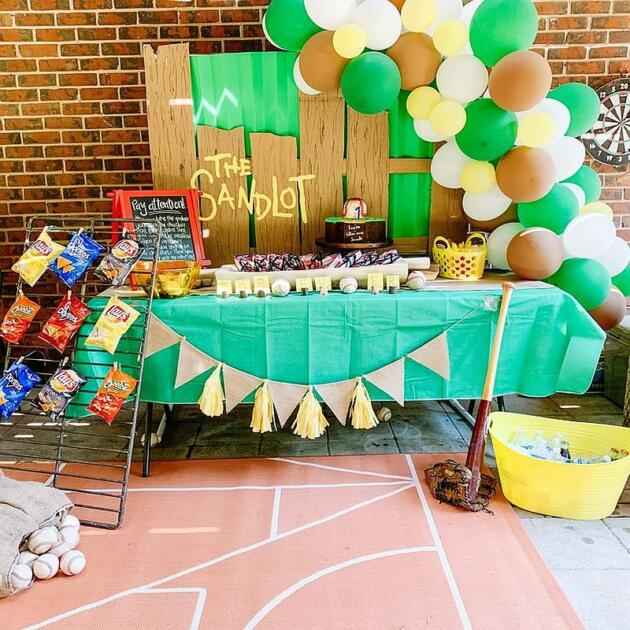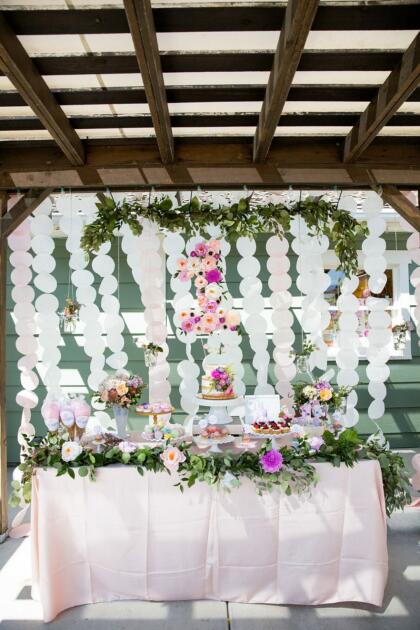 Another idea is to use balloons in different colors as centerpieces on each table where guests will be sitting during the meal portion of the celebration. If there are any other children attending your son or daughter's party then consider placing one balloon per guest so they feel special too!
1st Birthday Party Themes
Let's list some first birthday theme ideas in order to make you enjoy this moment with all the fun it deserves.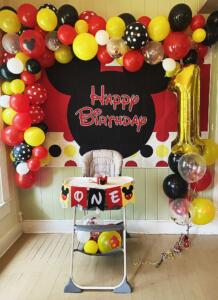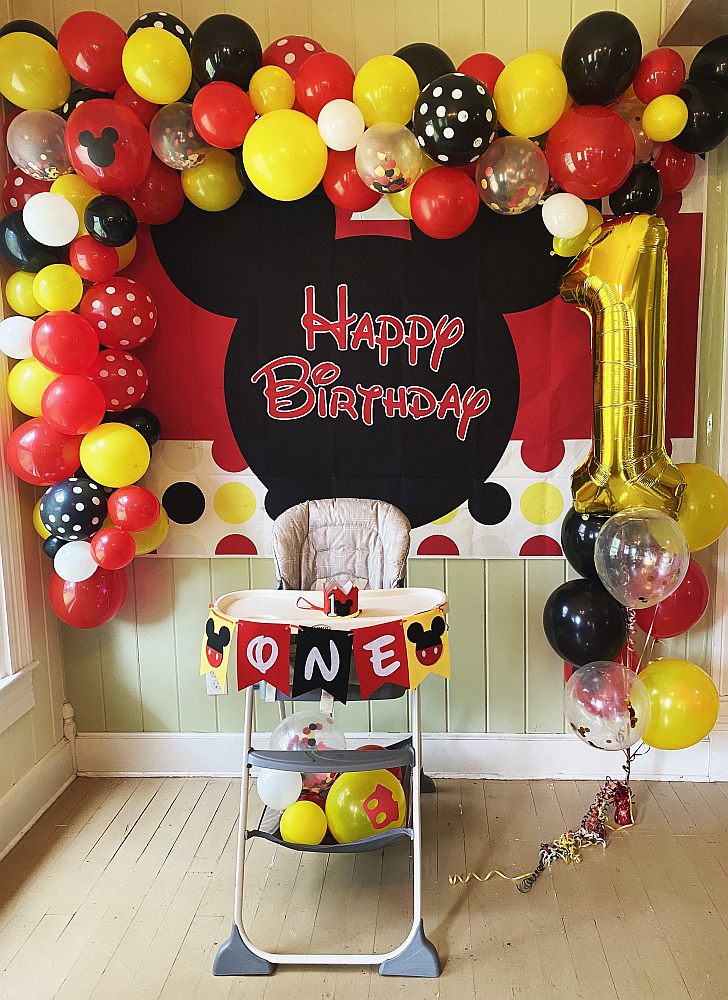 Mickey Mouse
Is your child a Mickey Mouse lover? No surprise there! The charming character has been a kid's favorite since it made its first appearance. So, you can't really go wrong with this theme. What's even more enticing about it is that you can easily find a wide variety of Mickey Mouse-themed decorations in most of the stores!
---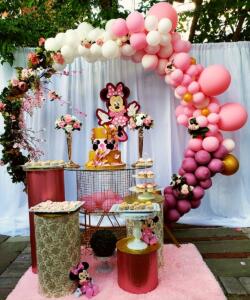 Minnie Mouse
A classic Disney character loved by everyone— Minnie Mouse is the perfect choice for your girl's first birthday theme. Think classic pink and white hues, polka dots, bows, and flowers to bring your theme to life.
---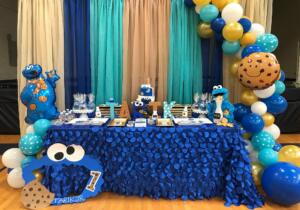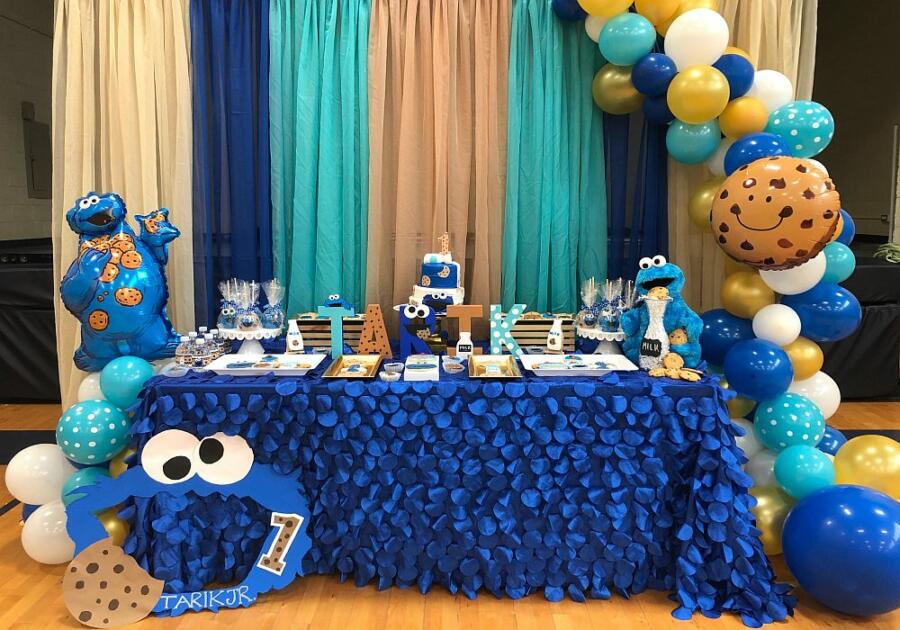 Sesame Street
Big Bird, Ernie, or Cookie Monster, pick any of the lovable Sesame Street characters to take your birthday celebration to a new level of fun and excitement.
---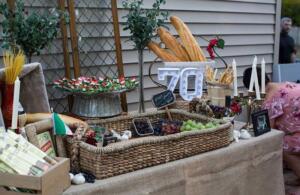 Cocomelon
Bring the Cocomelon characters to life for your little one's special day. Pep things up and go all out with colorful decorations for a vibrant party decor. All those rhymes make great party music too!
---
Paw Patrol
Get all the little Paw Patrol fans excited by throwing a Paw Patrol themed birthday party. Blue, red, and white colored decorations along with paw and bone motifs make this theme as cute as it gets!
---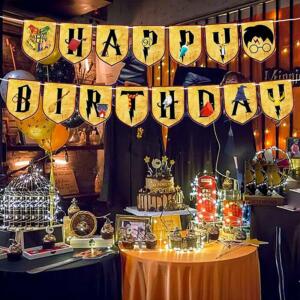 Harry Potter
Magical and whimsical— just like the first year spent with your little one!
---
Peppa Pig
Filled with flowers, sunshine, and all things nice, Peppa Pig will get the guests jumping with joy (in muddy puddles)!
---
Best Party Ideas for 1st Birthday
The most unforgettable memory of our childhood is a birthday. A kid's birthday party is all fun and joy as they are the star of the evening. There is a wide range of themes that you can choose for your kid's birthday.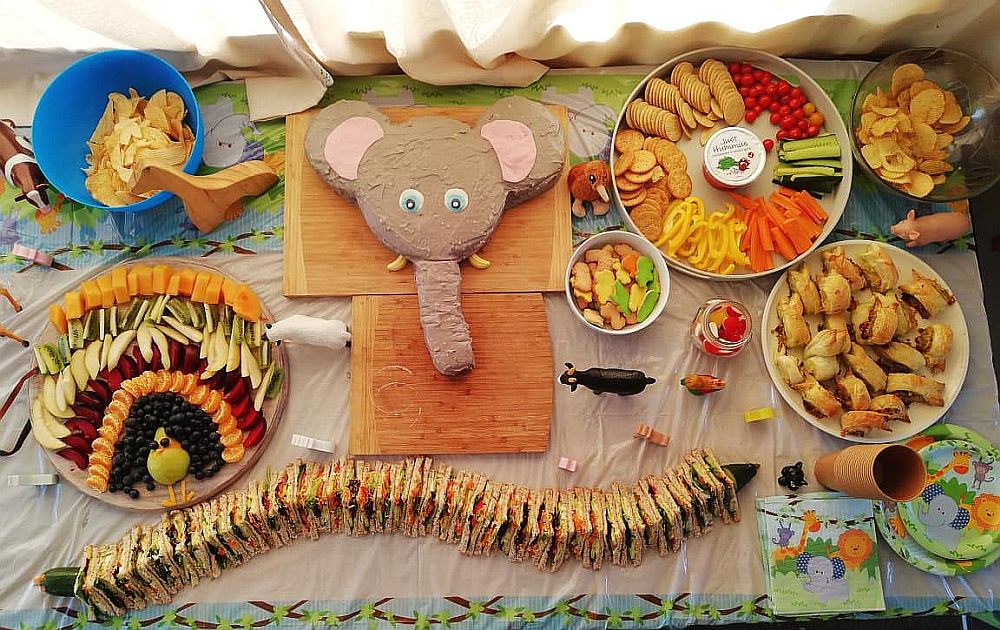 The entire décor can be based on their favorite movie, cartoon character, color or sports and games. Having a thematic birthday cake and snacks is also a great idea.
Unique 1st Birthday Party Ideas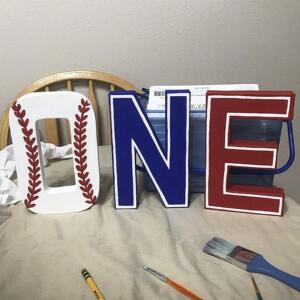 For an amazing happy 1st birthday decoration, select a fully coordinated and themed décor to make it extra special.
Place a chalkboard mentioning your baby's milestones, hang your baby's monthly photos from their first year and don't forget to make a special smash cake so your little bundle of joy can go crazy throwing cake and covering their face in icing.
Outdoor 1st Birthday Party Ideas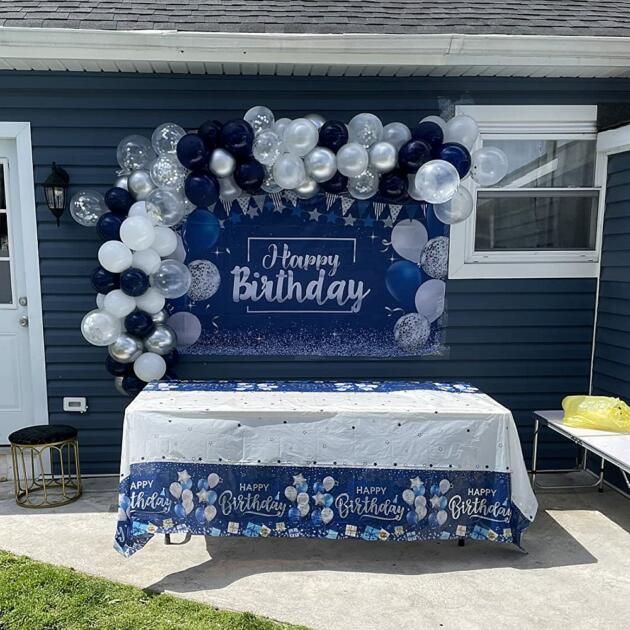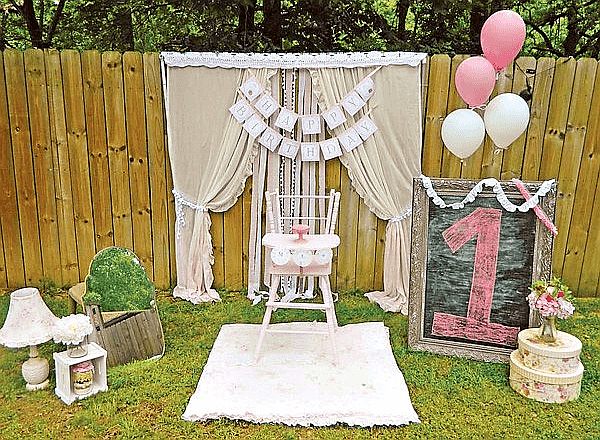 Where to Buy Happy 1st Birthday Supplies
For all the parents who want to give their little one a party they'll remember forever, we've got the perfect decorations. From banners and balloons to tableware and favors, you can buy everything you need online to make your little one feel like the star of the show.
Stores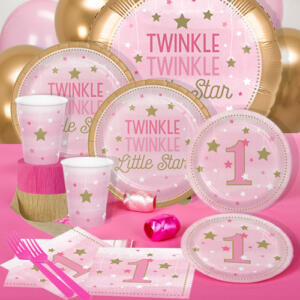 If you are looking for the best birthday supplies, decorations, and party ideas for your first birthday party, there are plenty of stores around to help you make your party planning easy.
These stores offer everything you'll need to throw a party that your little one will never forget.