Turning 18 is a momentous occasion as it's a milestone birthday and deserves to be celebrated in style! It is a time of celebration, transition, and to mark the end of childhood as well as the beginning of adulthood. So, what better way to rejoice than with some amazing 18th birthday decorations? Amazing birthday decor supplies can make all the difference at any party thus they are a must!
Unique 18th Birthday Ideas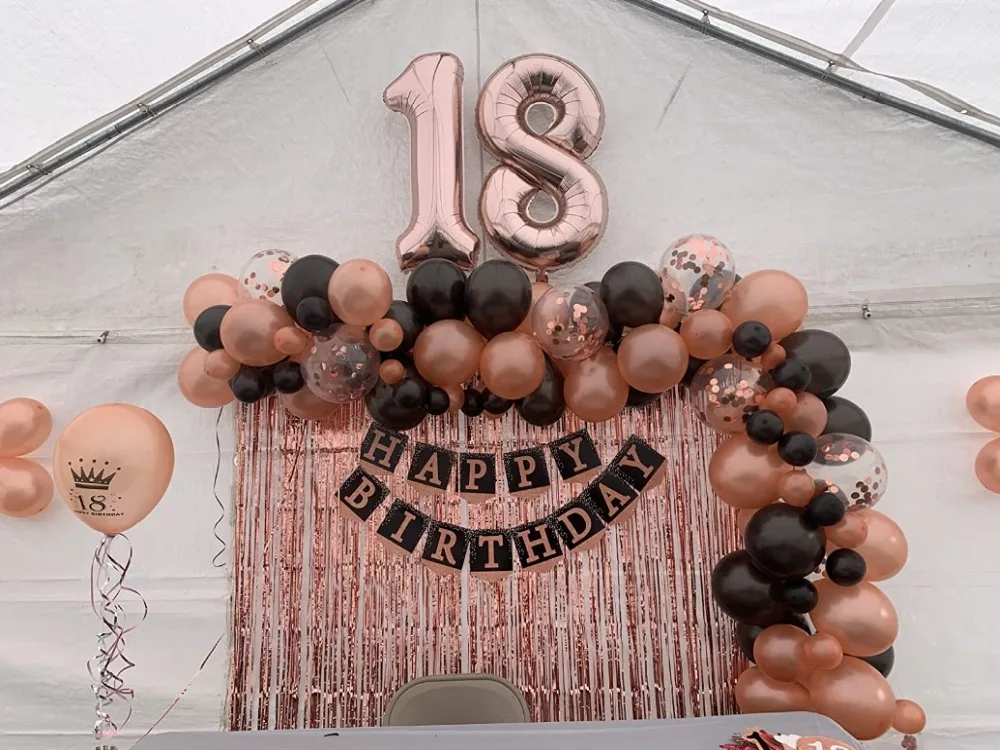 They add personality and excitement to the festivity and can really set the tone. No matter what your budget is, there are plenty of birthday decoration ideas that will wow your guests. From simple to more elaborate setups, you can create a joyous and exciting atmosphere that your friends and family will never forget.
From balloons, streamers, bunting, paper fans, and pom-poms to garlands, lights, banners, and more – there are endless ways to set a unique and fabulous stage for your birthday celebrations. There are many different decoration ideas to choose from, so you can tailor the decor to reflect your own personality and style. To help you find some great 18th birthday decoration ideas we have compiled a list of 5 fun birthday party decorations that won't break the bank and make your celebration truly special and memorable.
Balloons And Streamers
One of the simplest and most affordable ways to decorate for a birthday party is with balloons and streamers. Whether you're planning a small gathering of close friends and family or a large celebration, balloons are a classic decoration that can be used for any type of festivity. They are relatively inexpensive and can be found in a variety of colors and sizes to match any theme. You can use balloons to create a balloon arch or balloon bouquet. You can also use them to decorate the walls or ceiling.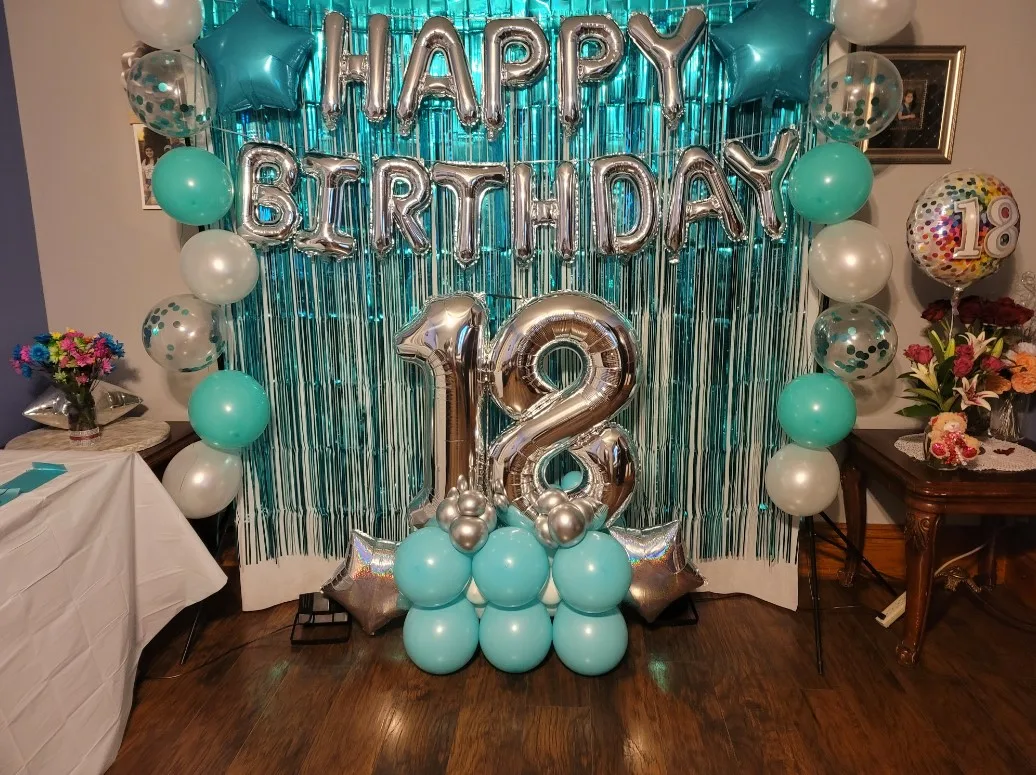 Similarly, streamers are a cheap and easy way to add some color to your birthday party decorations. They can be attached to the balloons to cover ceilings or placed on the sides of doors, or windows to exude a perky flair. You can also use balloons and streamers to create striking backdrops for a fabulous birthday decor.
Polka Dot Pennant Flag Banners
Pennant flag banners are another great way to add a cheerful and fun vibe to your 18th birthday party decor. You can attach lovely polka dot pennant flag banners to the wall along with pom pom flowers to usher in a whimsical allure. They can be also hung from the ceiling, walls, or doorway to create an eye-catching festive ambiance. There are so many creative ways to place the banners to jazz up the party ambiance but make sure to hang the banners high enough so that guests can see them and enjoy them. After the party, the pennant flag banners can be reused or given away as party favors.
Foil Confetti
Add some extra pizazz to your birthday party decor using some sparkling foil confetti. You can purchase pre-made foil confetti to impart a glamorous allure to your birthday decor. Bring a fanciful flair to your party tables by scattering foil confetti on tabletops, around centerpieces, or on the floor for a fun and festive look. You can also use foil confetti to accentuate the vases or other birthday decorations to create interesting visual effects. Make foil confetti a part of a larger decor scheme – for example, combine it with streamers, balloons, party favors, or other birthday party decorations to exude a perky charm.
Sparkly Gold Sequin Pleated Satin Table Skirt
Tablecloths are a must for any birthday party decor, and they can really help to beautify the cake table. Dress up your birthday cake table to the nines with the sparkly gold sequin pleated satin table skirt that provides the perfect way to decorate your dessert table! Ooze oodles of glimmer and shimmer all around your party space as the gold sequins will reflect the light and make your desserts look even more delicious! The gold sequins will add a touch of luxury to your table, and the pleated satin design will give it a beautiful, elegant look. Your guests are sure to be impressed with this beautiful, sparkling table skirt.
White Round Pedestal Footed Cake Stands
Display your cakes and other desserts in a chic and elegant way using the white round pedestal-footed cake stand. This cake stand is made of high-quality plastic, with a beautiful white glaze that can complement any theme or decor. It has a wide, round flat top that provides stability and prevents tipping.
Moreover, the cake stand has a classic design with a pedestal base and scalloped edge along with a smooth, glossy finish that is easy to clean and maintain. It is perfect to present your scrumptious cakes, cupcakes, pies, or other desserts in a gorgeous manner glamming up your presentation like never before.
Miscellaneous Items for the Party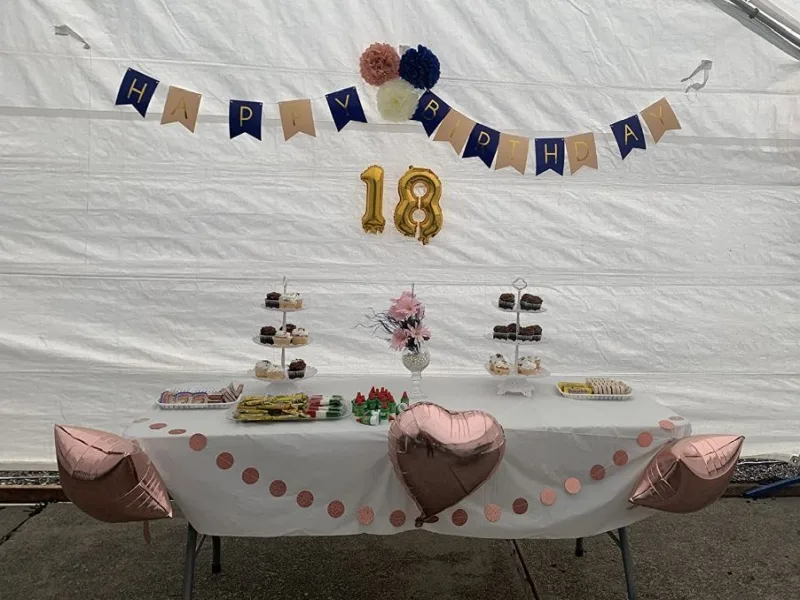 Celebrate your 18th birthday in style with decorations, banners, favors, and party ideas from our collection. From balloons to table runners, to birthday banners, find everything you need to make your special day unforgettable.
Happy 18th Birthday Banner
Celebrate this special occasion with a 18th birthday banner. Add a festive touch to the birthday party decor with this vibrant and cheerful banner.
18th Birthday Balloons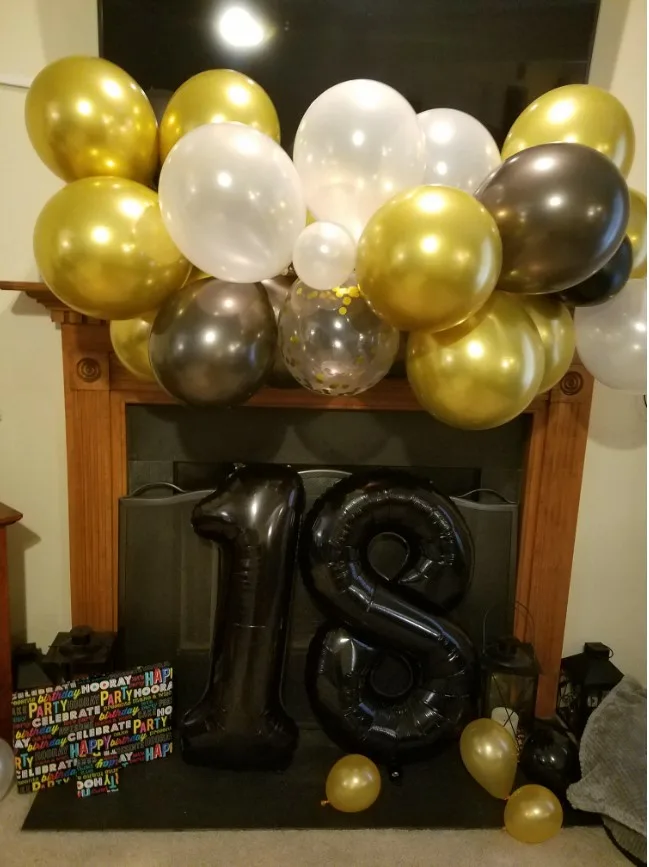 Celebrate your 18th birthday in style with balloons. Choose from a variety of colors, designs, and styles to create the perfect party atmosphere.
Happy 18th Birthday Party Favors
Celebrate this milestone birthday with the perfect party favors! Give your guests a memorable keepsake to take home and cherish the memories of your special day.
18th Birthday Gifts
18th birthday gifts can range from sentimental keepsakes to practical items that help the recipient transition into adulthood.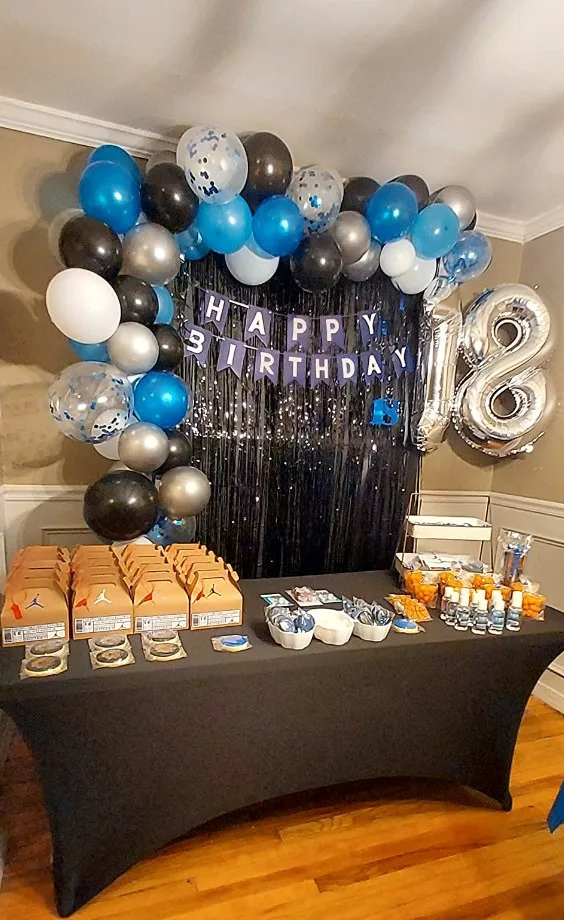 Personalized jewelry, tech gadgets, and experiences such as concerts or trips are popular gift options for an 18th birthday.
18th Birthday Flowers
Birthday flowers are a timeless and traditional way to celebrate someone's special day. They bring joy, brighten up the room, and show the recipient that they are loved and remembered.
18th Birthday Party Food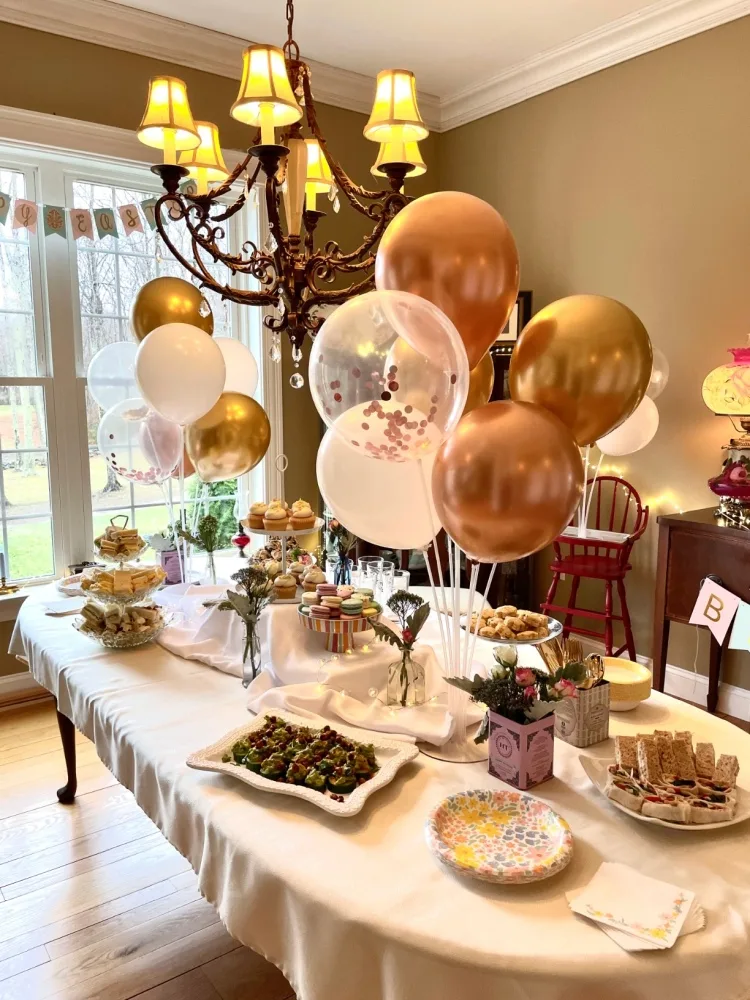 For an 18th birthday party, consider serving a variety of appetizers, entrees, and desserts to please everyone's tastes. Finger foods, sliders, pasta dishes, and a birthday cake are always crowd-pleasers at birthday celebrations.
18th Birthday Cake Ideas
Birthday cakes are a staple in birthday celebrations, adding sweetness and joy to the special occasion. They come in a variety of flavors, designs, and sizes to fit everyone's tastes and preferences.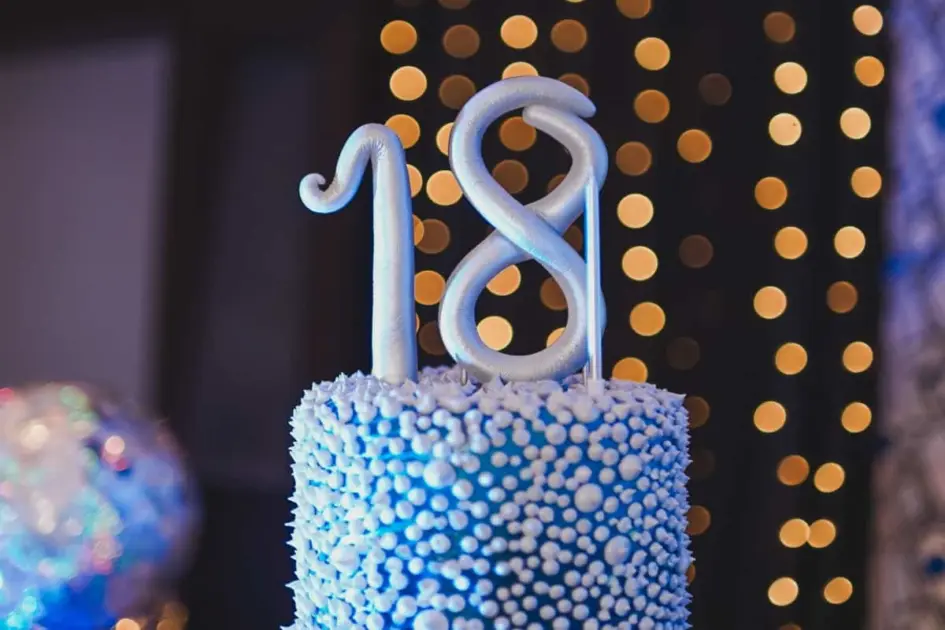 18th Birthday Party Music
For an 18th birthday party, consider a playlist that features the birthday person's favorite genres and current hits to get everyone dancing and having a good time. You can also incorporate throwback songs to reminisce on childhood memories and add a nostalgic touch to the celebration.
18th Birthday Decorations That Will Wow Your Guests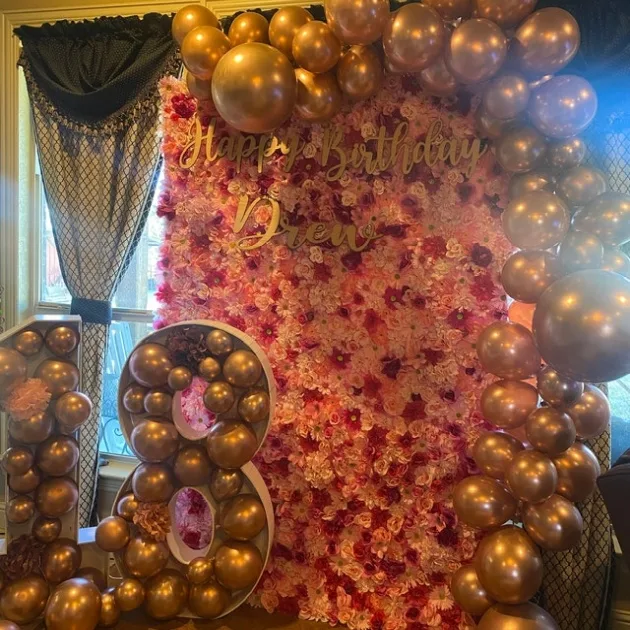 From shimmering balloons and glittering banners to personalized table settings and unique photo backdrops, there are countless ways to add a touch of magic to your special day.
Happy 18th birthday party ideas for daughter / son
Celebrate your milestone 18th birthday in style with eye-catching decorations that will leave a lasting impression on your guests.
Best Happy 18th Birthday Backdrops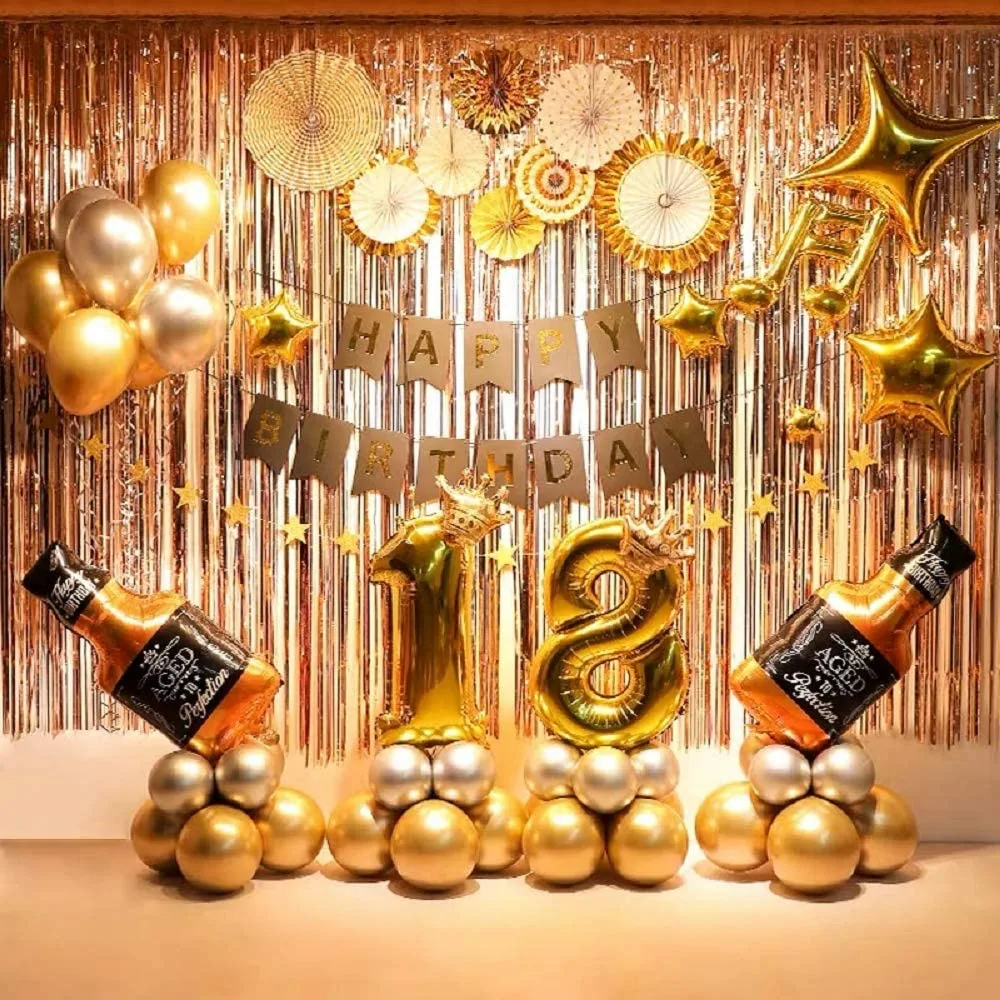 18th Birthday Table Decorations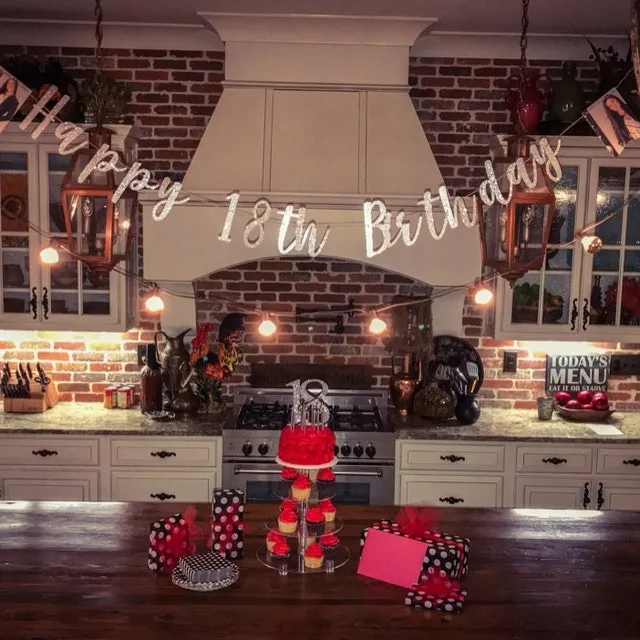 DIY Decorations for 18th Birthday Party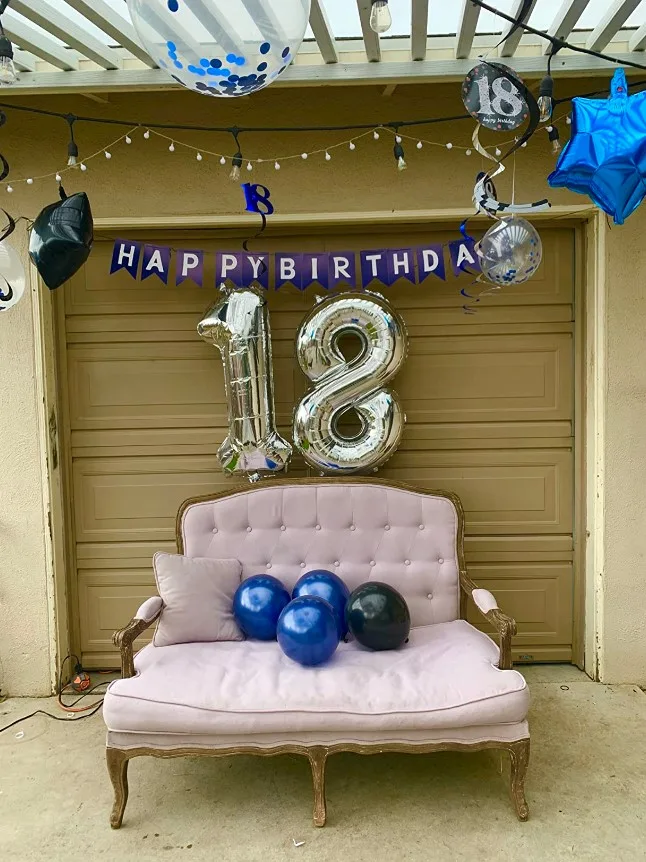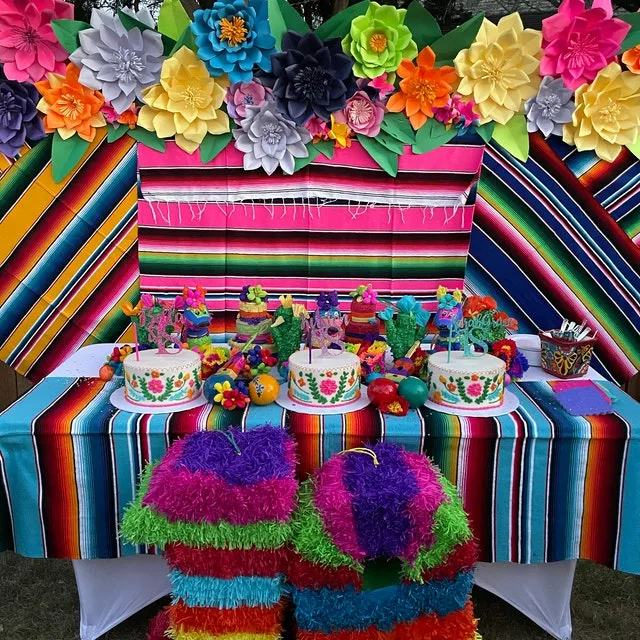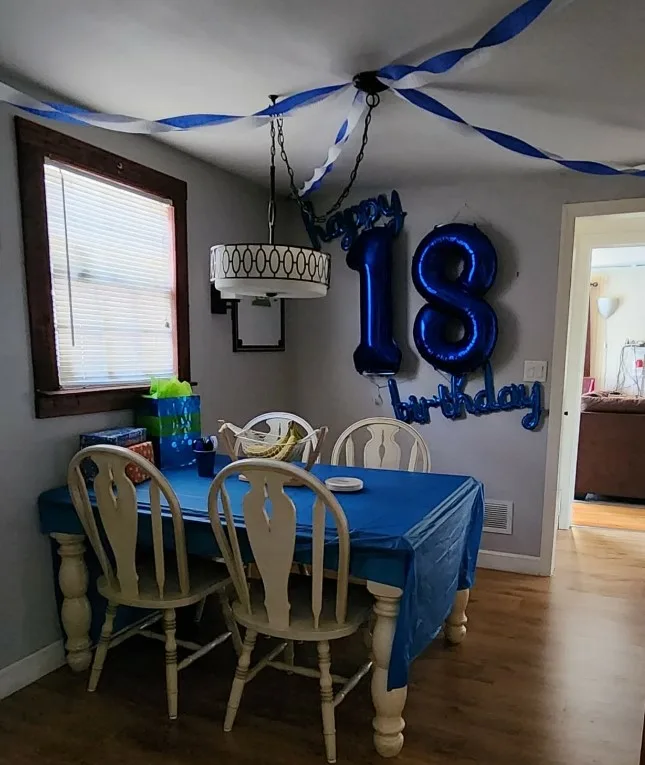 Best Party Ideas for 18th Birthday
Here are some ideas for your 18th-bday party:
Dinner party: Have a fancy dinner with close friends and family to celebrate the occasion. You could also plan a themed dinner, such as a masquerade ball or Hollywood glam.
Movie night: Rent a projector and have a movie night with friends. You could also have a movie marathon with your favorite films or TV shows.
Adventure day: Take the birthday person on an adventure, such as rock climbing, zip-lining, or white-water rafting.
Spa day: Treat the birthday person to a day at the spa to relax and rejuvenate.
Karaoke night: Rent a karaoke machine and sing your heart out with friends.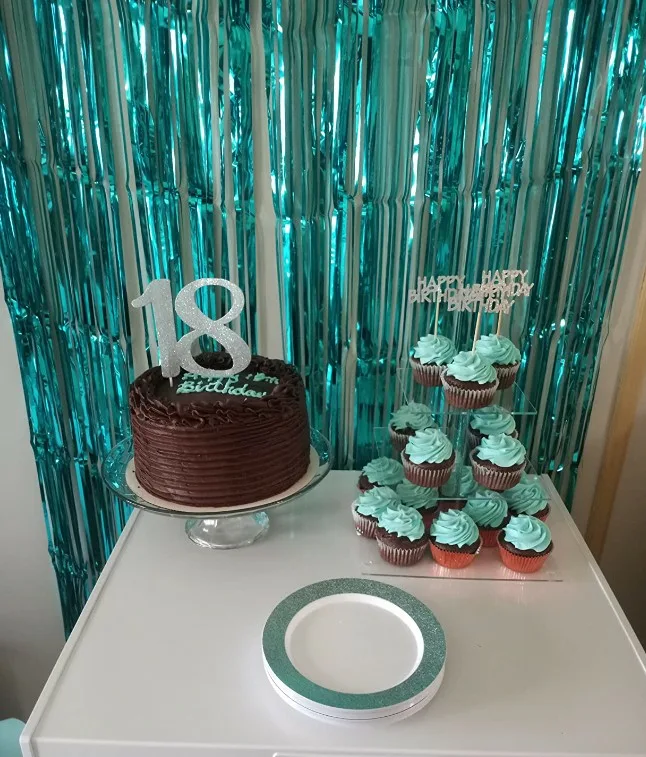 Gaming tournament: Have a gaming tournament with friends, either on console or PC games.
Talent show: Encourage friends to showcase their talents and perform in front of an audience.
Pool party: Rent a pool and have a pool party with friends, complete with music and drinks.
Sports day: Organize a sports day with friends, including games like soccer, basketball, and ultimate frisbee.
DIY workshop: Have a DIY workshop, where everyone makes something unique, like candles, jewelry, or even furniture.
How to plan an amazing 18th birthday celebration?
Planning an 18th birthday celebration can be an exciting and challenging task, but with proper planning, it can be a memorable experience for the birthday person and their guests. Here are some tips to help you plan an amazing 18th birthday celebration:
Set a budget: Determine how much you can afford to spend on the party and allocate funds accordingly.
Choose a venue: Select a venue that is appropriate for the occasion and the number of guests you plan to invite.
Create a guest list: Decide who you would like to invite and make sure to give them enough notice to plan accordingly.
Choose a theme: Select a theme that the birthday person will enjoy and that will tie the entire celebration together.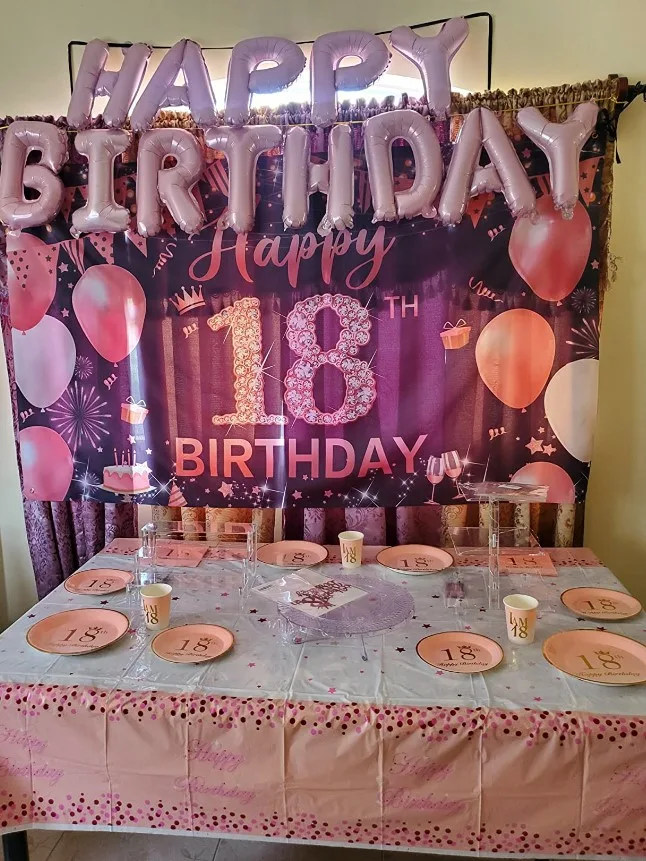 Plan the activities: Decide what activities you would like to have at the party and make sure they align with the theme.
Hire vendors: Hire vendors for food, drinks, music, decorations, and any other services you may need.
Send out invitations: Create and send out invitations, either electronic or physical, to your guests.
Decorate the venue: Decorate the venue to match the theme and create a festive atmosphere.
Prepare for any potential issues: Plan for any potential issues that may arise, such as inclement weather, unexpected guests, or last-minute cancellations.
Have fun: Enjoy the celebration and make sure to celebrate the birthday person and their special day.
Elegant 18th Birthday Party Ideas
Remember to also involve the birthday person in the planning process, as this will make the celebration more personal and memorable for them.
Where to Buy Happy 18th Birthday Supplies
If you are looking for the best birthday supplies, decorations and party ideas for your 18th bday party, there are plenty stores around to help you make your party planning easy.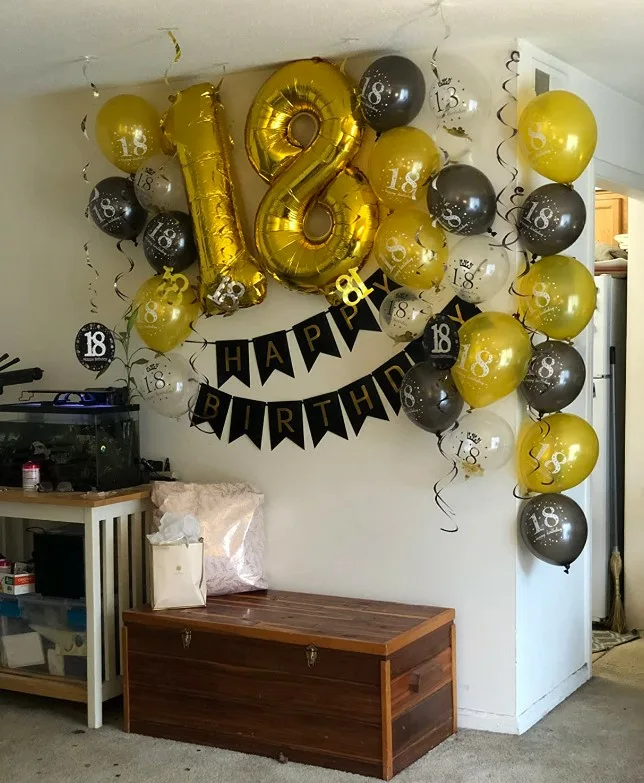 Stores
These stores offer everything you need to throw your own party. From balloons and banners to party accessories, they have everything you need to celebrate another year of life!
Amazon: Enhance your style with the ideal item.
eBay: Effortlessly find the best, lowest-priced party products.
eFavormart: Score a deal in the new offers and deals section, with extra savings on birthday supplies.
Wayfair: Don't miss their impressive decor selection.
eHomemart: Find accessories for any occasion and style.
Walmart: Choose from the top-selling products, in a range of styles and prices.
Dollar Tree: Decorate on a budget with your favorite decorations.
Hobby Lobby: Get party supplies at discounted prices.
Michael's: Browse a wide range of styles in their complete product selection.
Target: Shopping here is effortless and enjoyable.
Orrefors: A wide range of party supplies and event decorations at your fingertips.
Yankee Candle: Affordable, stylish products.
Ikea: Meet all your decorating needs with their vast selection of products.
Etsy: Celebrate with epic birthday decorations from the best products.
---
Coupons
Is your favorite store sending you coupons? Get them all in just one place.
10% Discount on happy birthday supplies (Not available)
---
Recommended Brands
Efavormart

Party City

Tableclothsfactory
FAQ
What to do for a 18th birthday party?
Have a fancy dinner with close friends and family to celebrate the occasion. You could also plan a themed dinner, such as a masquerade ball or Hollywood glam.
How to plan an amazing 18th birthday celebration?
Set a budget. Choose a venue. Create a guest list. Choose a theme. Send out invitations, and have fun.
Where to buy 18th birthday decorations for a party?
There are plenty of physical and online stores you can visit to buy your desired birthday party decorations.
Conclusion
Hosting the 18th birthday is a big deal- it's the last year of being a teenager! So, if you're planning a party for someone turning 18 soon, keep these birthday decorations in mind. Make sure your party planning incorporates some fun and unique elements to wow your guests and make this birthday one for the books.
With these creative birthday decoration ideas, you can be sure that your celebration will stand out among all the rest. So go ahead and start planning- after all, the more effort you put in, the better results you'll get! Your friends and family will be amazed by what you've come up with, guaranteed.