Birthday is one of the most special occasions in any person's life, no matter their age. This is why birthdays call for a memorable celebration— complete with attractive and joyous happy birthday decor to add color to your party and exude happy, cheerful vibes all around.
Epic Happy Birthday Decor Ideas
Whether it's your child's 1st birthday party or you're throwing a bash for your parents 50th birthday, a birthday celebration is surely incomplete without peppy happy birthday decoration that not only makes the guest of honor feel extremely special but also helps all the guests get in the mood for a joyous celebration.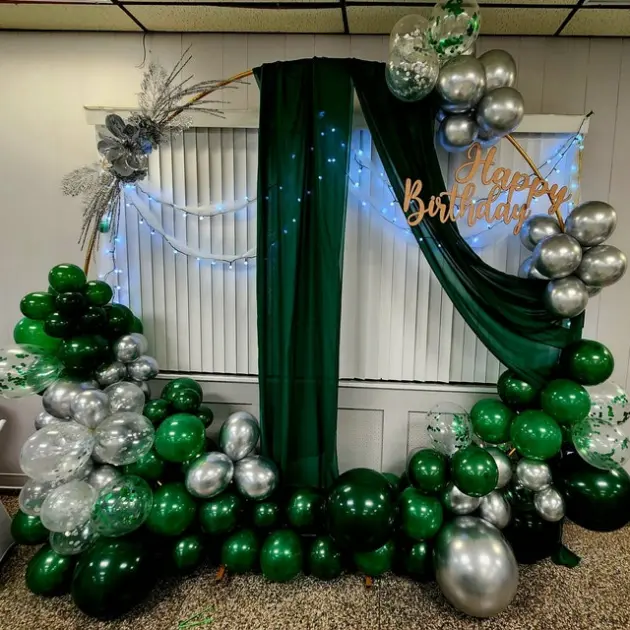 Moreover, setting a birthday theme and incorporating theme decorations in your happy birthday decor can turn an ordinary bash into a magical celebration elevating the ambiance and excitement to a whole new level.  In case you're searching for happy birthday decoration ideas, party themes, or unique happy birthday decoration items that you can use to create a warm and welcoming atmosphere for your party, we've got you covered! Just keep on reading as we have gathered an extensive list of popular birthday themes and party supplies along with unique and charming happy birthday decoration ideas and tips to help you pull off an incredible party for your loved ones!
Popular & Trending Birthday Party Themes
When it comes to birthday party decorations, choosing a theme is a great jumping off point to set things in motion. A good theme can take your party from average and boring to wildly creative and fun. Thus, pull out all the stops and celebrate another trip around the sun by picking an eccentric and trendy theme for your party that'll get everyone excited. Whether the birthday guest is turning 2 or 52, we've mustered up some awesome happy birthday theme decorations and ideas that'll give you all kinds of festive inspiration for an auspicious celebration.
Exciting Birthday Themes For Kids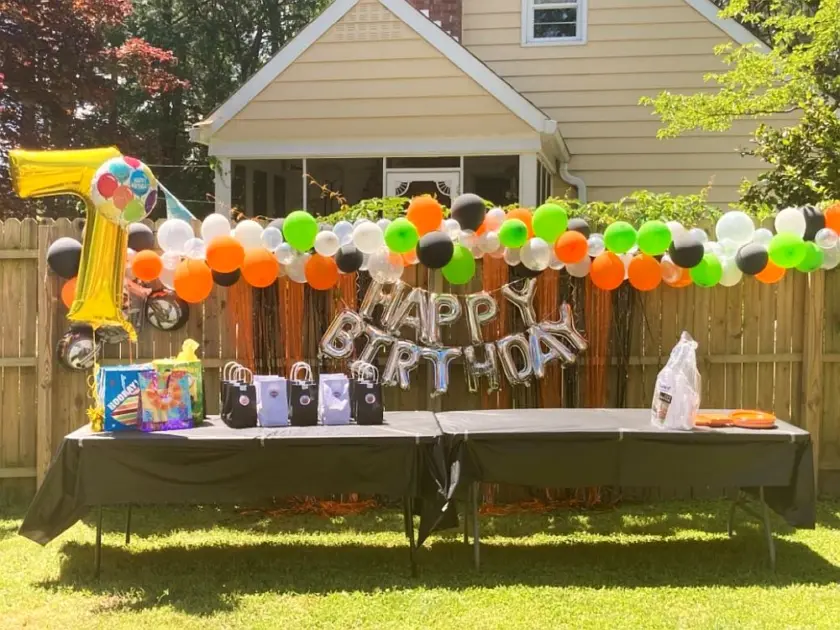 Every kid deserves to have a special celebration on their birthday and assigning a theme to the shindig is a fantastic way to give them a birthday party of their dreams! Here are the cutest birthday themes that are perfect for a kid's birthday bash!
1. All Things Candy Birthday Theme
You're already going to have the cake, cupcakes, and sweets all lined up on the table anyway, so why not throw in some candies into the mix and plan a candy-themed birthday party for your sweet little one! Make every kid's favorite thing—candies and sweets the main highlight of your birthday party decorations to add plenty of color making it extra special and oh-so-delicious!
2. Cheerful Circus Party Theme
A circus themed party decor works great for both girls and boys and helps give them an exciting party experience, after all who doesn't love a circus! Hand out clown rubber noses to all the guests and dress your tables with bright striped tablecloths or polka dot printed linens to imbue the authentic circus feel! Also, fill up a piñata with circus animal shaped cookies and candies for the little ones to go crazy with joy!
3. All At Sea Nautical Themed Party
Got a little adventurer? Plan an exciting day full of nautical fun and anchor aweigh with ocean-inspired theme decorations to spark their imagination! From sailing ships, anchors, floats, and buoys to the nautical star, compass, and sea life, explore jaunty nautical motifs and incorporate them into your happy birthday decor for a proper nautical themed birthday celebration that'll even get King Neptune excited!
4. Mystical Mermaid Themed Birthday Party
For a mystical mermaid themed party, think ethereal decor in shimmering blue, green, and purple colors and include all the magical under-the-sea elements in your party decor to enchant away the little mermaids! From pearl and shell decorations to sandcastles and more, there are so many ways you can give a mermaid-inspired look to your birthday party and show off your creative side!
Interesting Birthday Party Themes For Adults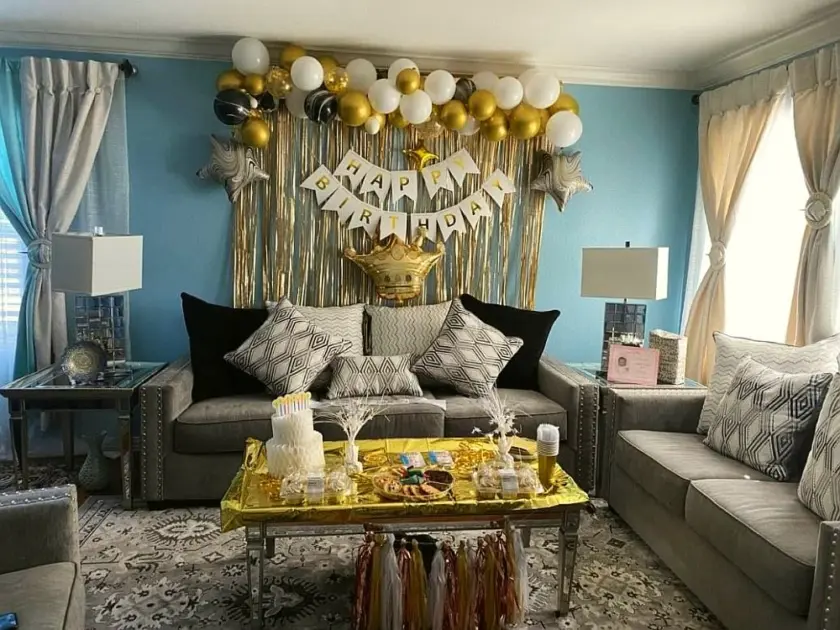 Searching for theme ideas for happy birthday decoration for adults? We've got a few awesome birthday theme ideas up our sleeve that are elegant and ideal for adults-only celebrations because why should kids have all the fun, right?
1. Epic Disco-Themed Party
As if a lively dance party wasn't enough fun already, giving your party a groovy disco touch will take it to a whole another level! Include different sized disco balls, sequin linens, disco lights, and other dramatic and shimmery decorations to create a rocking ambiance for an epic disco-themed birthday party!
2. Classic Movie Night Party
Who doesn't love a movie night? Pick the birthday guest's favorite movie and create a theme around it or select a movie that allows you to get dramatic with your birthday decor such as The Great Gatsby! Get your costumes on or get under the blanket and make sure there's no shortage of cake and popcorns!
3. Woodland Wonderland Theme
Calling all nature lovers! A magnificent woodland wonderland theme is just perfect for people who have a passion for nature. Think buffalo plaid patterns, sylvan accents, and forest greenery to curate a fascinating rustic woodland birthday theme party decor!
Stunning Happy Birthday Decoration Items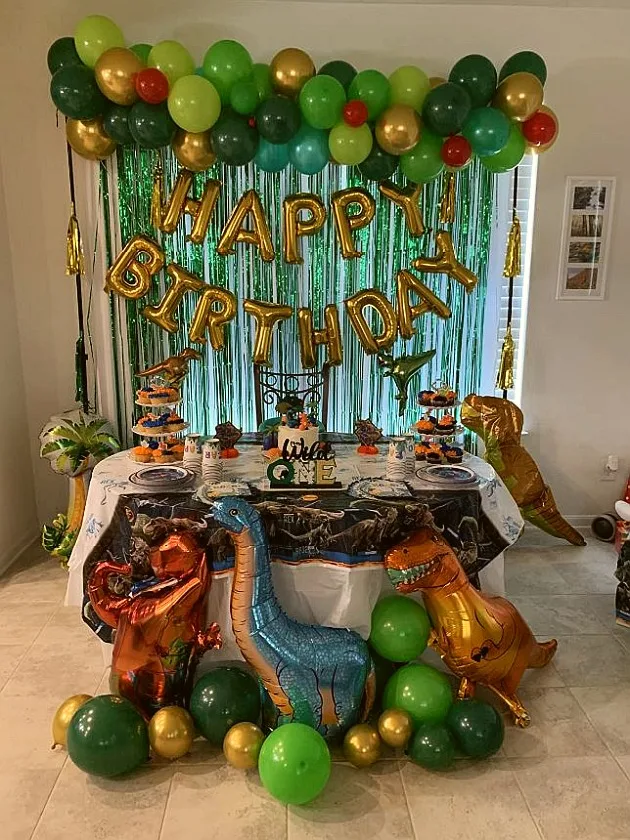 Whether you're throwing an indoor birthday party at your home or hall or you're taking the fun outside in your backyard, park, beach, or any other outdoor location, birthday party decorations are definitely a must.  However, when it comes to choosing supplies to decorate your party venue, there is an entire sea of options you can dive in to whip up an amazing happy birthday decor. Here's a list of happy birthday decoration items you can use to creatively bedeck your next birthday bash.
1. Colorful Balloons
Needless to say, balloons are the mainstays of any and all birthday party decorations. A birthday celebration is surely incomplete without some bright and colorful balloons taking the spotlight and adding a pop of color and festivity to the party. Moreover, since balloons are available in a wide variety of shapes, sizes, colors, and materials, they can also be effortlessly worked into all happy birthday theme decorations and color schemes for a charming birthday decor that is bound to impress your party guests.
2. Hanging Tassels
Peppy, colorful, and eye-catching, tassels are yet another birthday party decor item that never goes out of style. These fringy, hanging party supplies fashioned from tissue or crepe paper strips are not only cheap but are also versatile enough to pep up any dull and dreary spot. Plus, there are endless ways to incorporate fringe tassels into your happy birthday decor. Use tassels to stylishly frame your windows, mantel shelf, and doorways, or hang them on walls and ceilings, or you can also outline your dessert or cake table with vibrant tassels to creatively jazz things up. Just string up several paper tassels using twine, ribbon, or monofilament thread to create a lovely tassel garland that'll make the perfect addition to your happy birthday party decorations. Moreover, you can also use tassels as balloon streamers to add a cheery flair to your balloon decoration.
3. Vibrant Paper Pinwheels
Pinwheel paper fans are classic party decor accessories that work for all types of events and not just birthday parties. Whether they're drooped from the ceiling at varying lengths or clustered together to create a fantastic happy birthday wall decoration, decorating with paper pinwheels will bring a whimsical element to your birthday decorations.
4. Charming Paper Lanterns
Paper lanterns are the perfect birthday party decorations as they bring a sense of whimsy and wonder to the decor. Use bright paper lanterns as they are or bedeck them with bunting, laces, ribbons, glitter, or confetti for customized happy birthday decor. However, if you're looking to elevate the elegant and sophisticated appeal of your decor, you can also use paper lanterns with LED lights to exude a soft glowing radiance that'll ooze oodles of grace and charm.
5. Flamboyant Pom Poms & Honeycombs
Whether you're decorating for a kid's birthday party or you're searching for happy birthday decorations for adults, there is nothing better than pom poms and honeycombs to add a flamboyant visual kick to your party decor. Drop down varying-sized colorful pom poms and honeycombs from the ceiling to add a celebratory and festive pop to your soiree.
6. Enticing Floral Decorations
With their mesmeric beauty and enticing appeal, flowers imbue a feel of celebration like none other. Floral decorations are a gorgeous addition to any event decor and a fun way to impress your guest of honor and party guests. While real flowers are pretty, they're a bit expensive and don't last for long. Whereas, paper flowers and artificial flowers impart an equally glorious appeal but are a much cheaper and more durable alternative to adorn your party venue. Create a riveting wall backdrop using a mix of giant tissue paper flowers to inject some drama into your party decorations or accentuate your happy birthday table decorations with gorgeous floral arrangement centerpieces for a captivating yet sophisticated birthday party decor.
7. Festive Wall Banners
Spell out the reason for the celebration with happy birthday banners to make it extra special for the honored guest. No matter you're throwing a grand party or celebrating amongst friends, every birthday party can use a glittery and sparkling happy birthday decoration banner to boost the festivities up a notch. Write a quirky phrase on the wall with letter balloon banners or hang it over the dining table to give it a festive look and spread joyous and happy vibes all around.
8. Adorable Cake Toppers
The birthday cake is the most important part of any birthday celebration, thus augmenting its beauty with cake toppers makes perfect sense. Use number or phrase cake toppers to spell out something festive on your cake without actually writing on it. Whereas, figurine cake toppers can be used to highlight the theme of the party pulling all the different elements of the birthday party decor together for a cohesive and harmonized appeal.
Enchanting & Easy Happy Birthday Decoration Ideas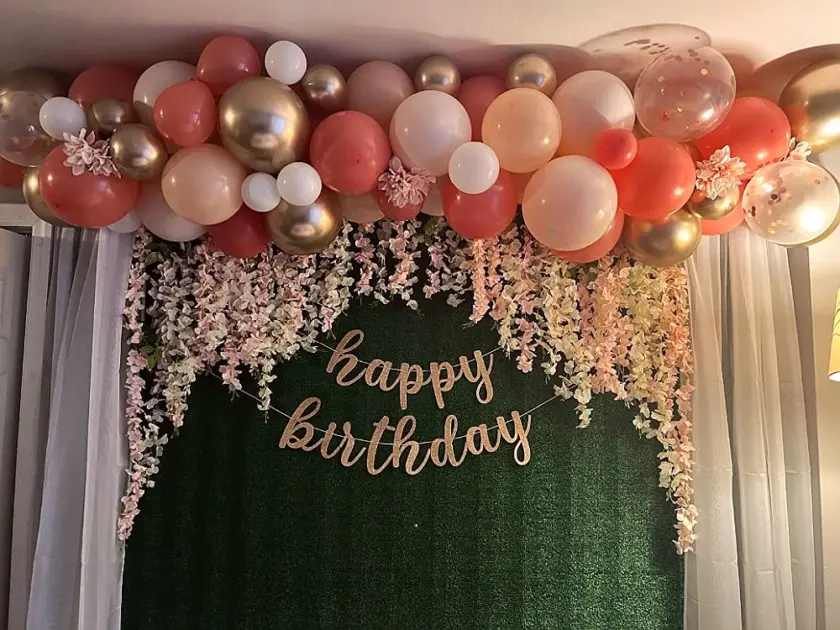 Birthday decorations featuring colorful balloons, funky decor accents, and props are definitely a must-have to celebrate the occasion in style. But in order to make your party decor memorable and Instagram-worthy, you need to up your game and unleash your creativity to create unique and striking DIY happy birthday decor. Ring in another great year filled with hope, happiness, and joy using these charming happy birthday decoration ideas and tips.
1. Glam Up Your Walls
Wondering where to start your birthday party decorations? Set the ball rolling by adorning your walls with charming decorating supplies to create a festive and vibrant photo wall backdrop for your event. Choose a large windowless and blank wall and fill it up with several balloons from the ceiling to the floor for a dramatic and flamboyant wall decor that screams happy birthday in the utmost creative way! You can also tie colorful streamers to your balloons for added flair and style. Likewise, hanging a happy birthday decoration banner on your wall creates a simple and easy but wonderful happy birthday wall decoration that is perfect for both small and big-scale celebrations. However, if a balloon wall doesn't fit in your thematic decorations, you can also adorn your wall space with hundreds of colorful, shimmering round-shaped confetti to elegantly glam up an otherwise plain and boring wall.
2. Revisit The Memories With Photograph Garlands & Collages
Birthdays are all about celebrating the blessings and cherishing the memories of all the past years with your loved ones. You can either make garlands out of all the memorable photographs and accent them with twinkling hanging fairy string lights or elegantly frame a giant photo collage on the wall to take your guests down a nostalgic journey while creating a mesmeric focal point that is surely going to be the highlight of your party decor. This happy birthday decoration idea works exceptionally well if you're planning for milestone birthdays that mark a big birthday year such as the 1st birthday, 18th birthday, 50th birthday, or any other big milestone.
3. Use Food & Tableware As Your Birthday Party Decor
A great way to enhance your party decor is to turn your food into decorations. Thus, in order to accentuate your birthday decorations up a notch, decorate your cake and cupcakes with lovely decorative toppers that complement your theme and display them on tall cake stands adding a gorgeous dimension to your happy birthday table decorations. Moreover, find decorative serveware and dinnerware that'll make all the food and sweet treats look even more appealing. Also, make sure to pick stylish favor boxes or bags to hold your party favors adding charm to each place setting. Are you planning a surprise 21st birthday party for your best friend? Go the extra mile and bedazzle the champagne glasses with glitter, ribbons, washi tape, stickers, diamond rhinestones, and other shimmering decorative accents to make your celebrations even more memorable.
4. Give A Unique Twist To Your Balloon Decorations
Though balloons are the go-to decorations for birthday parties that never go out of style, simply putting up a few colored balloons won't cut it if you're looking to make a stunning decor statement. To make balloons the highlight of your party, it is important that you add a personalized unique touch to your balloon decorations. Work your artistic magic and creatively arrange varying-sized colorful balloons on balloon stands or a curved balloon arch and finish it off with glimmering fairy string lights, and pretty floral and foliage decorations to set up a one-of-a-kind balloon arch. You can use it to stylishly decorate your entrance or doorways to make a grand first impression! Similarly, you can also create unique balloon garlands using a mix of different happy birthday paper decorations, colorful balloons, and LED balloons to add extra pizzazz and pop to your party. However, to spruce up those standard balloons, roll them up in shimmering glitter to bring sparkle and festivity centerstage. You can also stuff up some transparent balloons with a whole of confetti or sweets and candies to create balloon piñatas for a fun-filled activity after the candles are blown off!
'Wild One' Birthday Theme for our One year old pic.twitter.com/utbBBnAHFu

— Cody & Jana (@CodyandJana) January 29, 2023
Conclusion
Whether you're planning a birthday party for a child or an adult, over-the-top birthday party decorations are a great way to get everyone excited. As you can see, there are so many ways you can make your happy birthday decor special for a truly memorable celebration. So get your party hats on and get creating!