In our working lives, we spend most of our time in the office. Even though we devote ourselves to work, we have little choice regarding the type of work we do or the type of office from where we operate. However, on some occasions, like birthdays, we have complete freedom to decide how to spend time and decorate our office.
Birthday celebrations at the office allow us to combat boredom at work. It is the perfect time when you can bring in a little of your decor style to your cubicle. However, decorating a cubicle is not an easy task. Therefore, we have listed some of the best happy birthday decor ideas that will help you to bring in a little bit of fun and excitement to your office.
How to Decorate the Office for a Birthday Party
From delicious desserts to adorable presents, a birthday party is definitely the best excuse to enjoy and rejoice with your close ones and an office place should be no exception. Talking about office birthdays, celebrating your colleague's birthday is not only a great way to take a short respite from your hectic day at work, but it also gives you an opportunity to celebrate and honor your work fellows with some exciting birthday decorations.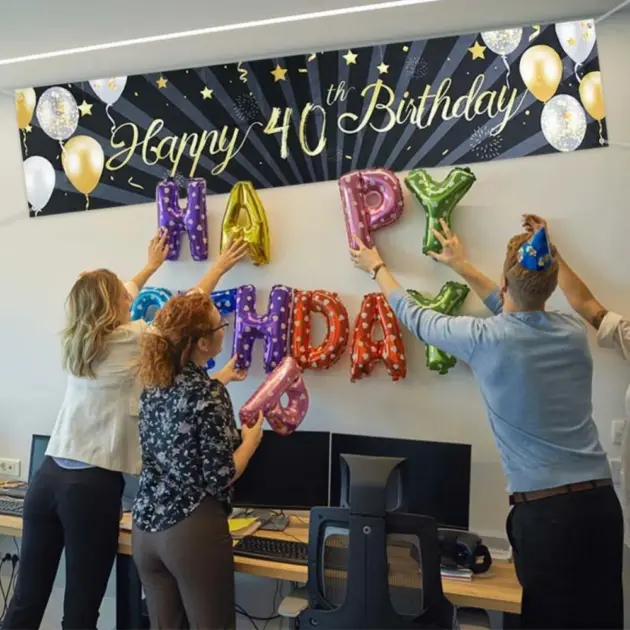 When it comes to office birthday decorations, a little goes a long way so make sure you keep track of all the minute details and celebrate without disturbing the office decorum. Even though birthday celebrations at the office add value to your company, they can be a stressful experience if not managed the right way so to make your birthday party décor process a hassle-free one, keep scrolling below to discover some amazing birthday party inspirations in this ultimate office birthday party guide. Whether you're looking for birthday decoration ideas to impress your boss or you're planning to surprise your coworker, you are guaranteed to make a bang with these simple yet fun decoration ideas. So, without wasting any further time, gather your birthday party supplies and get on the decorating spree.
Creative Cubicle Décor Inspiration!
Undeniably, birthday decorations effortlessly set the celebrative mood and make everyone fully feel the celebration which is why birthdays are always incomplete without them. The best way to kick start the celebration and make office birthdays extra fun is to decorate the special one's desk or cubicle with some vibrant accessories. Go the extra mile and make your coworker feel special by coming early in the morning and decorating his/her workspace.
Colorful balloons & party banners
The best idea is to go all out with colorful balloons, party banners, streamers, birthday hats, post-its, and other birthday party decorations that instantly perk up any space. You can also ask other employees to write sweet messages for the birthday person or make cards for him/her to add a customized touch to your setup. Whether you keep your decoration simple and minimal or decide to decorate your heart out, you're surely going to delight your colleague by adding the birthday sensation to his/her workstation.
Perk Up Your Celebration With Some Jazzy Props!
We all love to save memories from special occasions like birthdays, so if you also want to make your coworker's birthday party unforgettable but are unable to adjust a photo booth into your office place, some fun and perky props will definitely do the job for you by adding a jazzy twist to your sweet moments. If you have been keeping up with the new birthday prop trends, you must know that now they are beyond simple cut-outs and crafts, and simply blending in your inner creativity can make your birthday party fun and exciting.
DIY Birthday decorations
As minute DIY details not only help you engrave memories that go a long way but also give an overall facelift to your birthday decorations, use glitter sheets to cut out fun props resembling hats, mustaches, glasses, and much more. You can also add an extra touch of customization by writing cute messages over your props but make sure to keep them short and sweet.
Enticingly Display Tempting Treats!
When talking about birthday celebrations, how can we even forget the cake? Birthday parties are never complete without a cake as they are not only the sweetest addition to every celebration but also bring just the right amount of festivity into your special occasion. While many of you prefer the traditional cake cutting ceremony, those who love to keep up with the latest trends may know that there is a wide range of cupcake options as well which not only add a simple and scrumptious twist to your happy birthday celebration but also make the after party cleaning process much easier.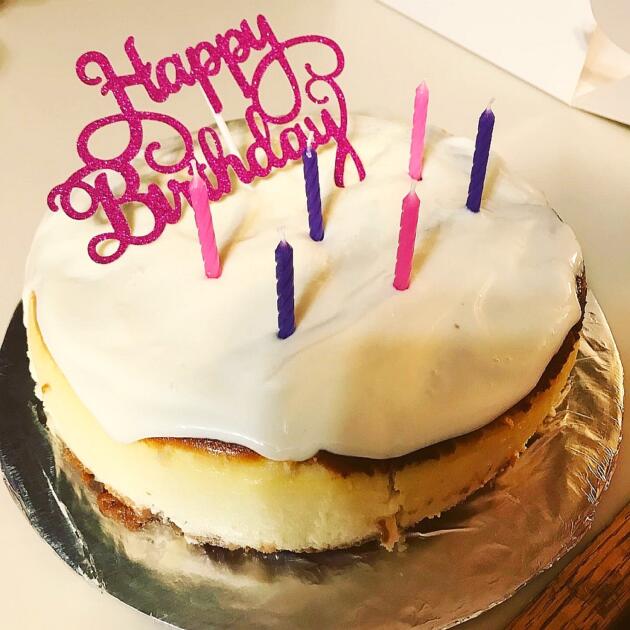 Whether you opt for cakes, cupcakes, chocolates, donuts, or any other sweet treats, make sure to make the display of your confection as sweet and delightful as the inside with some birthday decorations. To make your desserts the highlight of your office birthday decorations, you can display them on metal or glass cake stands, cupcake stands, and decorative trays but there's always an option to go the easy way by using disposable party supplies like disposable chargers, plates, cutlery, and cups.
Happy Birthday Work Desk Decorations
Decorate your colleague's workstation with beautiful items like a wall mount calendar and work planner. A lot of aesthetically designed wall calendars made of wood and craft material are available in the market. If you have enough space, place one or two vases at the workstation and fill them with fresh and artificial silk flowers. Use ceramic containers like pen stands to sort your coworker's stuff.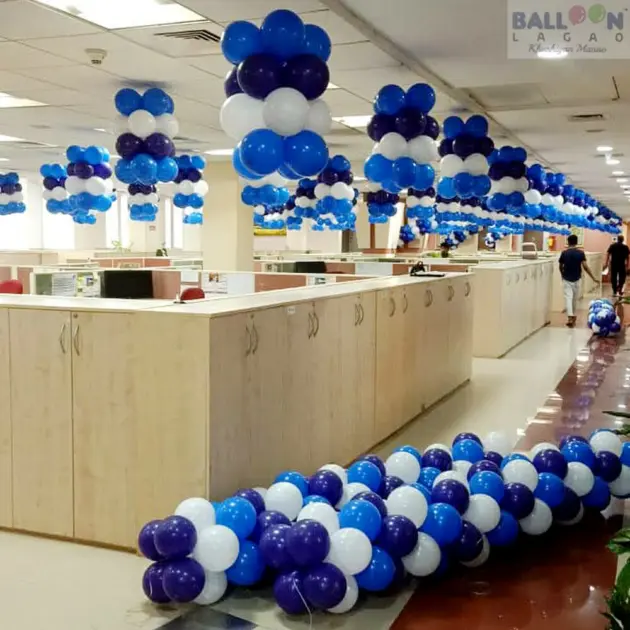 Decorate the Cubicle Wall
Install a decorative board on the wall and showcase special moments on the board. Any awards, recognitions, and certificates are the ideal items to be showcased. Pictures from the felicitation ceremony would be the icing on the cake.
Adorn the wall with birthday banners like "Happy Birthday to You" and "This is my beautiful Workstation" to create an image of a happy workplace. You could also create a rainbow theme decoration for your backdrop made of balloons with strings hanging on them. Balloons and papers of seven different colors are required to create a rainbow theme backdrop.  A background of foil curtains is another option that you can try.
Fill Your Shelf with Decorative Items
Let decorative accents find space on your office shelf for a day, if not forever, in case you are hard-pressed for space. Gather party supplies like wicker, paper, or crocheted balls and place them on a cubicle shelf to add a refreshing appeal to your office space.
Fill the Space with Lamps and Balloons
Switch off your regular lights for a while, use decorative lights like cotton ball string lights and feel an immediate change with its warmer luminosity.  As balloons are a great way to make any space festive-ready, fill the entire office space with colorful balloons.
Change Aesthetics with Flowers
Any birthday celebration seems incomplete without flowers. Change the aesthetics of your physical environment in the office with colorful artificial flowers.
Embellish ceilings of your office with artificial paper flowers. Try bright colors of yellow, green, red, orange, and pink in your workspace to invoke feelings of excitement and freshness.
Distribute Unique Party Favors
Would you not like to thank your colleagues, who went all out to host you in the office on your birthday? Of course, you would like to say, "I appreciate your efforts" in style.
Show your love and thank them with unique party favors. An expensive gift is not required as a token of appreciation.  Even small candy bouquets packed in inexpensive containers will do. You may explore other knick-knacks that are available for party favors.
Best Office Birthday Decorations Ideas
Undeniably, a successful workplace birthday party calls for some easy yet fun office birthday decorations, and these superb ideas above will surely help you celebrate your big day while working.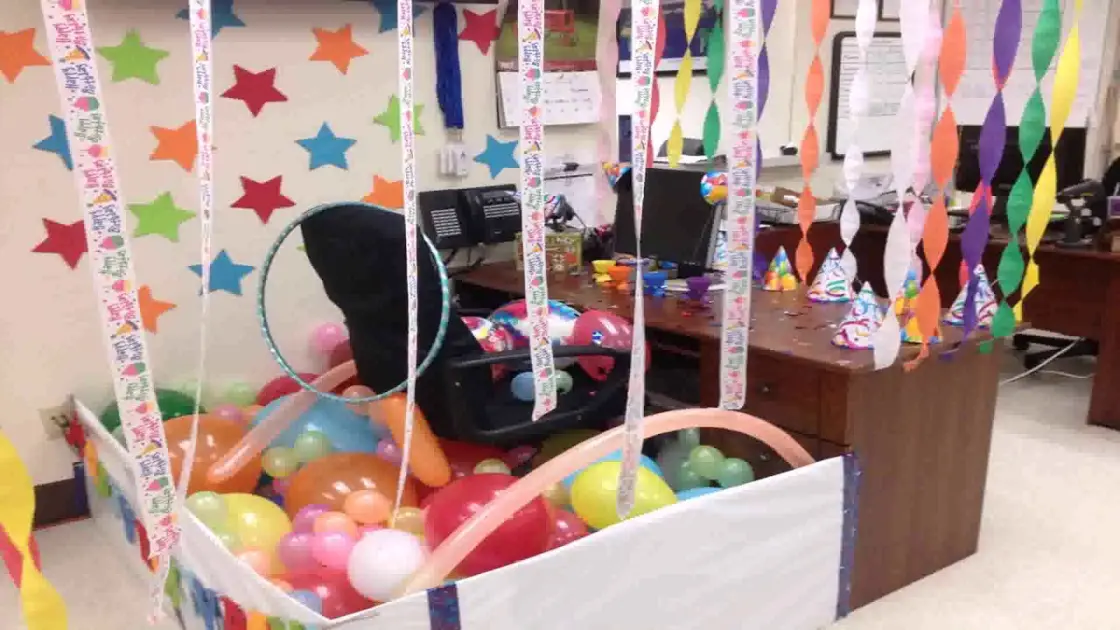 Conclusion
Try the above happy birthday decor ideas to create positive energy in the office so that creativity and productivity flow in abundance.